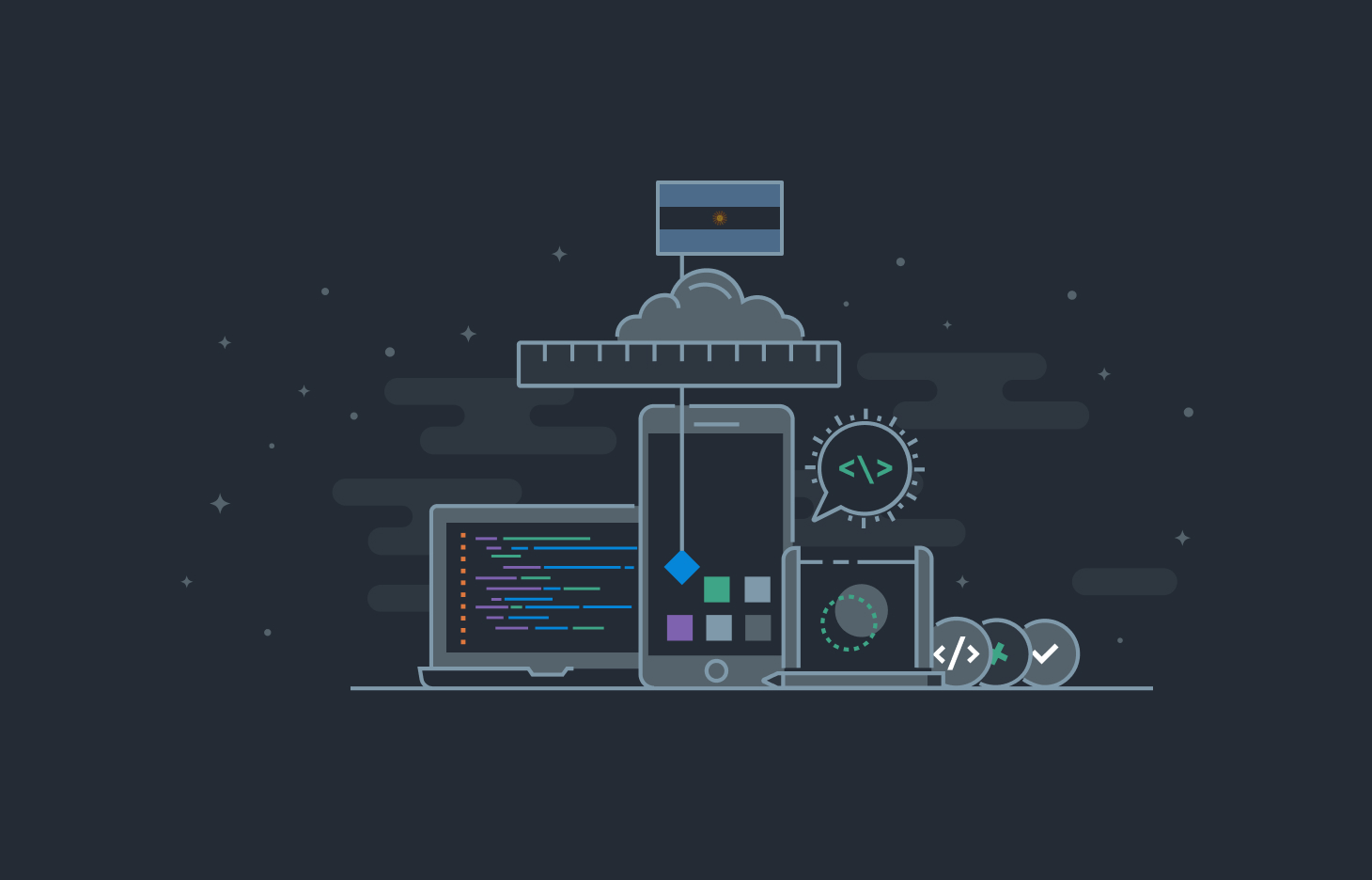 Here at TECLA, we love working with software talent from South America, especially Argentina. We have our reasons. To start, software engineering skills in Argentina are #1 worldwide, according to Coursera's 2019 Global Skills Index. But it goes beyond cream-of-the-crop talent. Our Argentine engineers have excellent educational backgrounds, diverse programming skills and the best level of English in Latin America.
Moreover, Argentina has a thriving tech scene, with innovative start-ups, government tech initiatives and insane growth in the software and app outsourcing industry. Throw in cost-effective salaries and overlapping time zones, and you can say hola to the perfect software outsourcing spot. In fact, Argentina has been ranked a top 30 offshore services location by Gartner.
Since we have plenty of developers from Argentina in our network, we've seen firsthand how Argentina is the perfect place to hire your next remote software engineer. Today, we'll give you an in-depth look at what makes Argentina a go-to talent gold mine for software outsourcing.
Developers by the Numbers
Estimates vary on the number of skilled developers in Argentina. Stack Overflow says there were 114,576 Argentine developers in 2018, one of the highest in Latin America. However, this number is expected to grow. According to CESSI, there will be as many as 134,000 people working in Argentina's IT industry by 2020.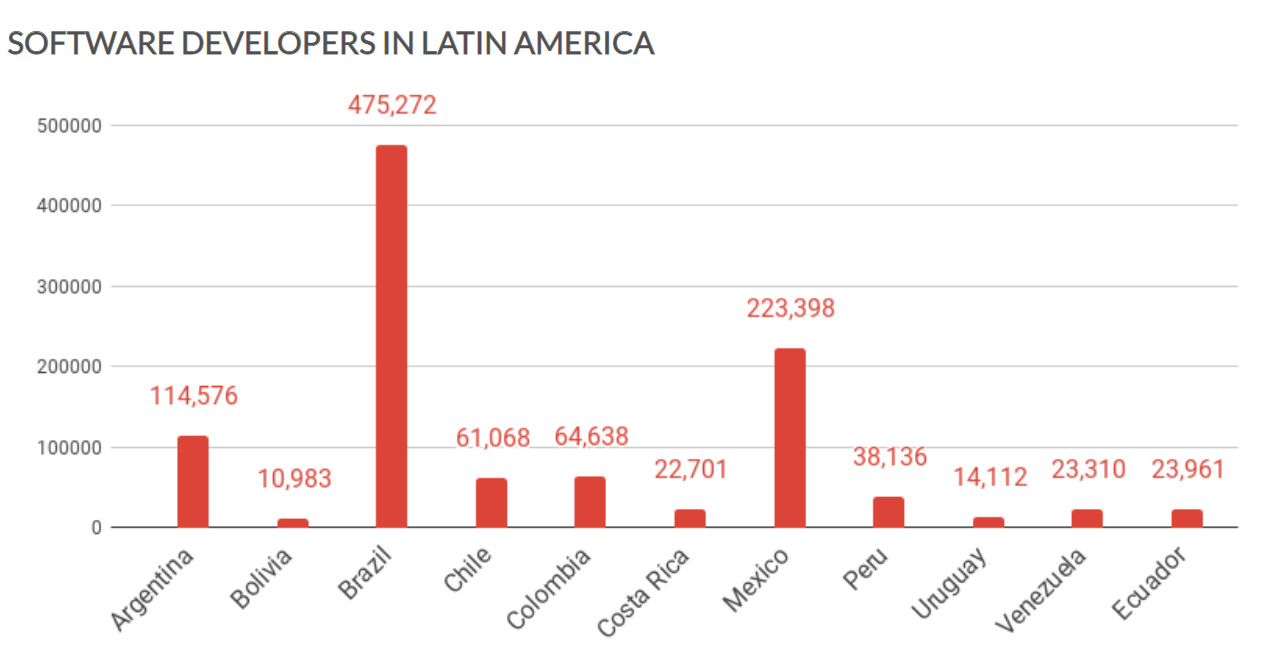 In addition, Argentina has taken a leading role in the global app economy. The 2018 App Economy report listed 40,150 jobs in Argentina app development. This means that roughly 35% of Argentine developers are working on app development. Many of these jobs are related to the booming Argentina application outsourcing market.

Besides overall numbers, Argentine developers also have a strong online presence in developer communities. This shows great engagement and commitment to new technologies. According to Stack Overflow site traffic, Argentina ranked 2nd to Brazil in South America for site visits.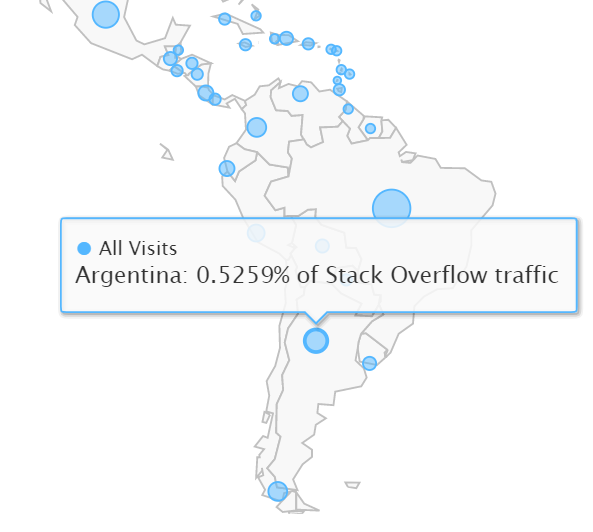 Argentina's powerful online presence is similar across the major developer community sites, including GitHub and CodePen.
Programmer Skill Rankings
As we mentioned, Argentina has the #1 software engineering skills worldwide. Coursera's 2019 Global Skills Index ranks Argentina as a leader in cutting-edge technical skills. To give you a sense of perspective, the next South American country on the list is Brazil at number 30: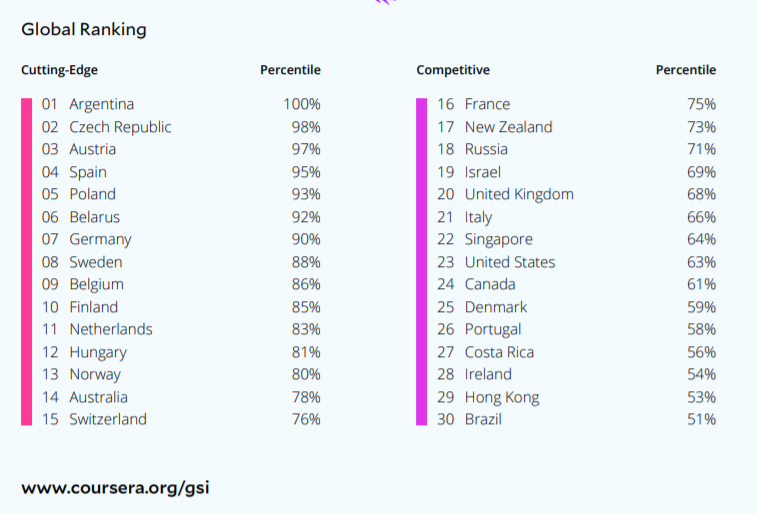 Specifically, Argentina has strong talent in software engineering (100%), operating systems (95%) and HCI (76%) compared to its Latin American peers:

In other unofficial rankings created by hacker sites, Argentina also scored high. For example, in the HackerRank Programming Olympics, Argentine developers received a score of 72.1, just below Brazil: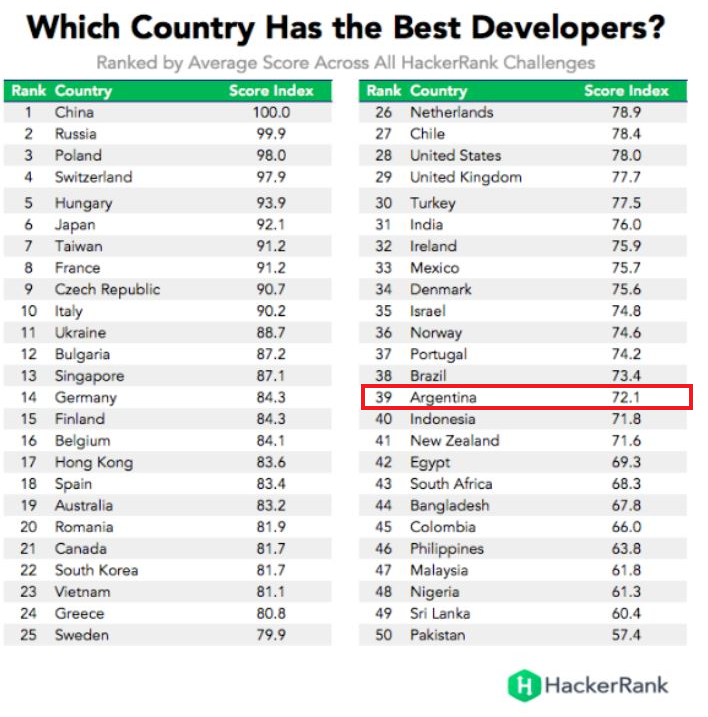 In another developer talent ranking by TopCoder, Argentina placed in 15th place.

No matter the ranking you select, Argentina leads Latin America and often the world in top-rate software engineering.
Tech Educational Background
In addition to core skills, Argentina also has some of the best world-ranked universities. In fact, seven Argentine universities fell within the top 50 in Latin America. Compared to other countries worldwide, Argentina takes 3rd place in Latin America after Brazil and Chile: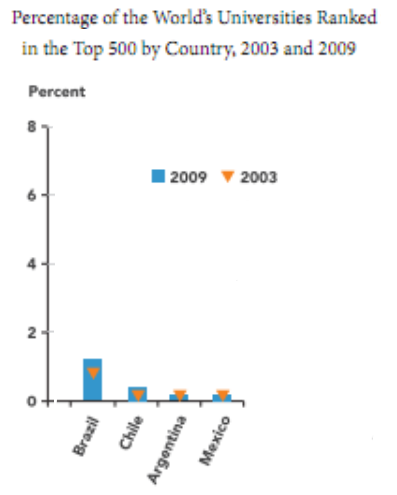 In fact, Argentina's education system offers over 200 IT degrees across its numerous high-quality universities. The best institutions for technical subjects include the University of Buenos Aires, the National University of Cordoba and the National University of Rosario, all of which appeared on the elite U.S. News & World Report Ranking for 2018:

The University of Palermo Argentina and the National University of Litoral also ranked high in worldwide rankings by China and other institutions. Moreover, in terms of the number of science and engineering degree graduates, Argentina also ranks high: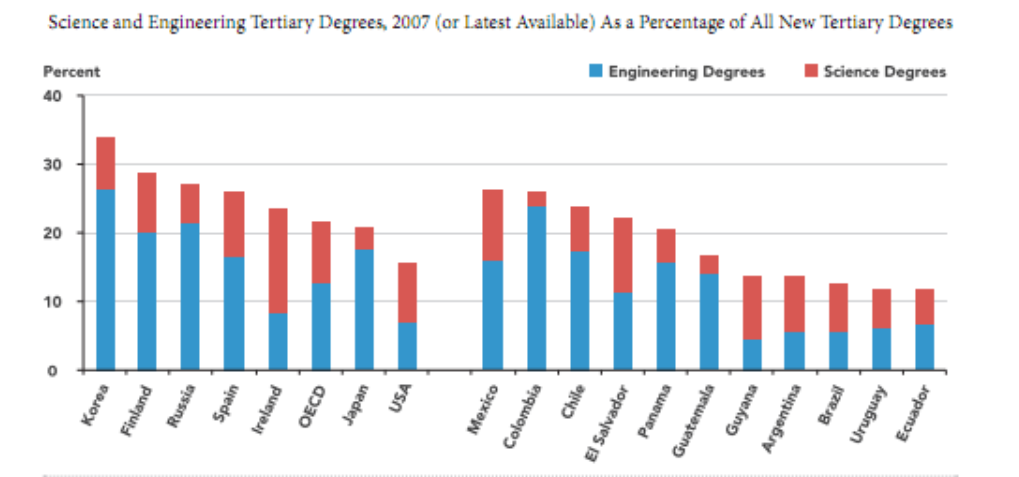 Argentina prides itself on a rigorous tech higher education, which may account for slightly fewer graduates than other countries listed here.
Specific Programming Skills
Argentina also has a diverse range of programming skills. According to Google search trends, Argentina has the most inquires about Java and C programs. However, an array of programs are represented: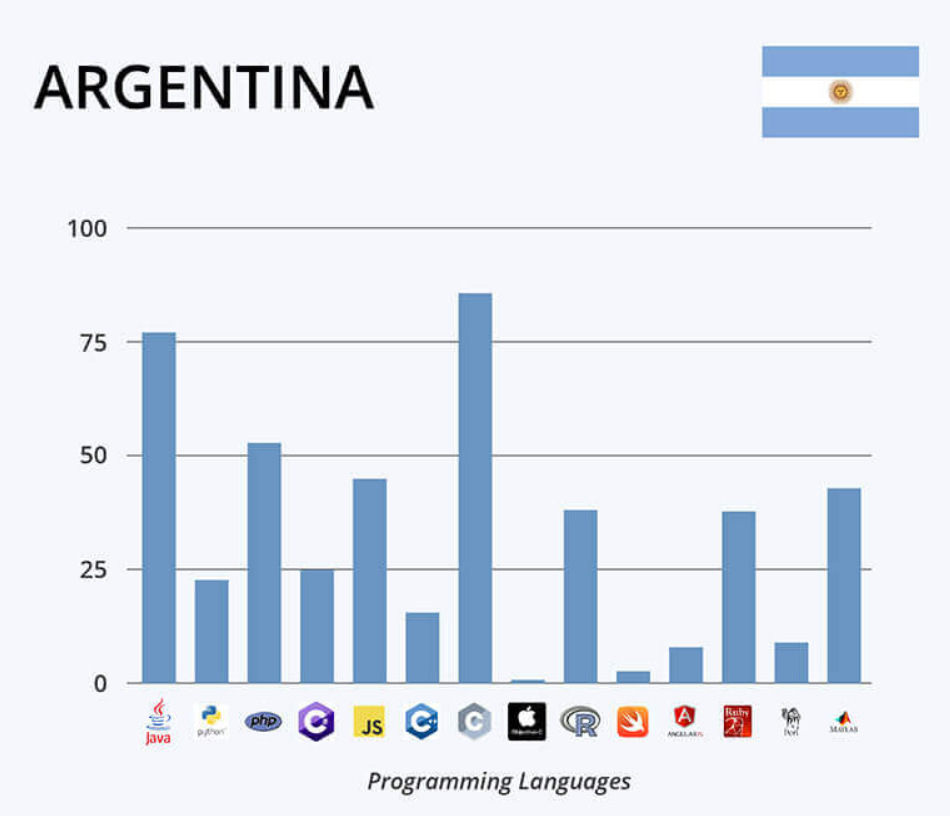 In addition, in a Stack Overflow survey, Argentines reported that their most loved language was Python, their most dreaded was Visual Basic 6 and the most wanted was JavaScript. They also showed high request numbers for Javascript and top JS frameworks, such as Angular.
Tech Scene Overview
Generally speaking, the tech scene in Argentina is thriving. By 2020, their IT and software industry is expected to reap in $7.33 billion. This growth is consistently high: in the last 10 years, the IT industry has been doubling across Latin America.
In particular, Argentina's business scene is favorable for a few reasons. First, Argentina is ranked within Bloomberg's top 60 most innovative economies at 50th place: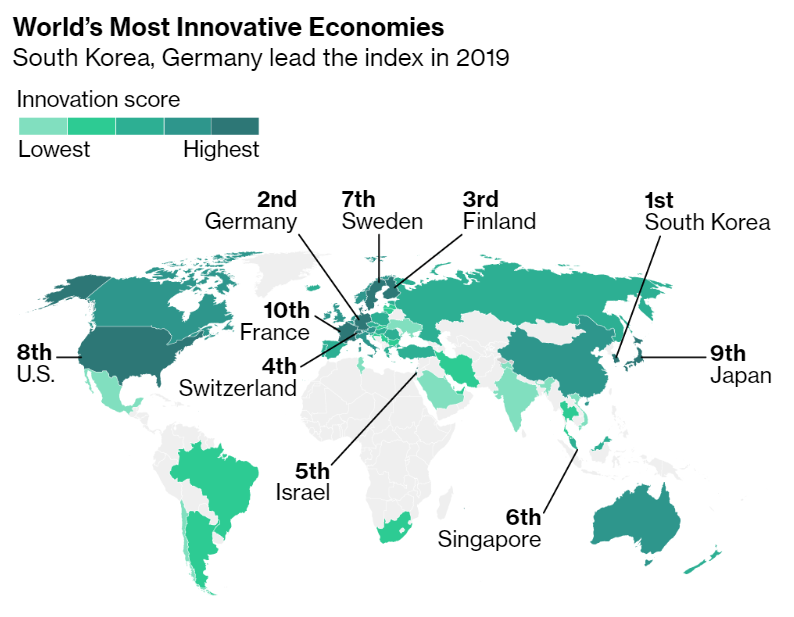 This is good news for U.S. companies looking to work in a tech scene that's oriented towards the future. In addition, Argentina has a wonderfully diverse app economy, showing that they have experience working with foreign clients. 50% of Argentina app outsourcing consisted of the United States and the United Kingdom, but a range of countries are included: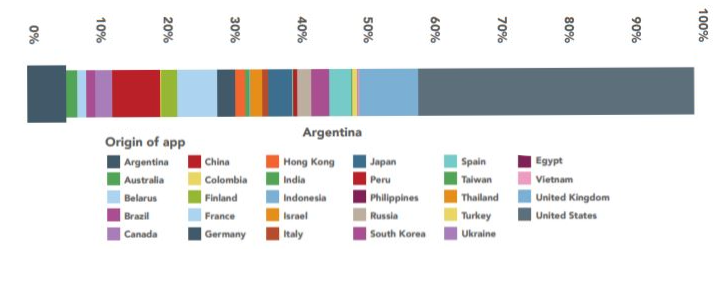 This diverse range is a good sign for companies looking to enter the Argentina app outsourcing market with globally experienced developers.
Finally, it's a good moment for Argentina software outsourcing from a labor perspective. Argentina (together with Uruguay) is ranked as having the most IT job seekers at low levels: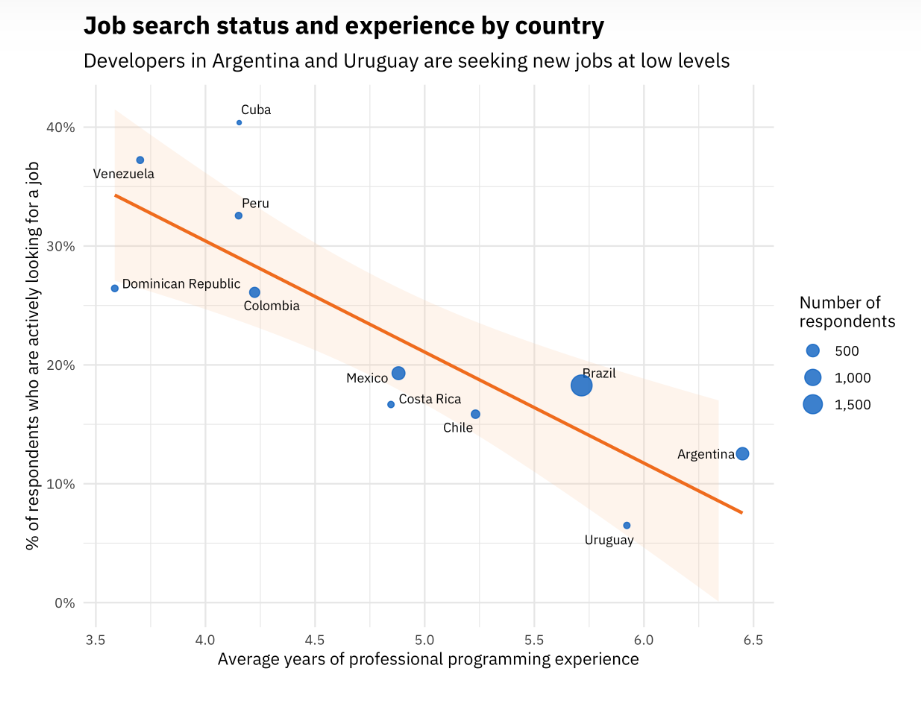 These numbers suggest that software outsourcing in Argentina could be a success in terms of hiring great candidates at cost-effective prices. The time is ripe for hiring!
Hub for Software Development Companies
CESSI has reported around 4,300 companies in Argentina, including world-class software outsourcing competitors. In fact, many of LATAM's tech giants were started in Argentina, including:
MercadoLibre

Despegar.com

Globant

OLX
However, since these early days, Argentina has quickly incubated many other software start-ups. By looking at Clutch's 2019 Reviews of Argentina software development companies, we see many new and highly-regarded Argentina outsourcing companies coming onto the scene, such as:
AgileEngine

AccelOne

NaNLABS

Belatrix Software

Huenei IT Services

Practia

BairesDev

Flux IT
Besides these Argentina companies, there are many cases of global and U.S. companies hiring in Argentina. For example, currently on Glassdoor, there are software developer job openings for companies abroad, including:
ExxonMobil

J.P. Morgan

Lenovo

Chase

Accenture

Chevron

TripAdvisor

Reuters
This market penetration by global and U.S. companies also shows that Argentina has become a tech hub for Argentina software development companies, as well as those beyond its borders.
Government-Led Tech Initiatives
Argentina is also leading the pack for LATAM in terms of tech initiatives throughout the country. In particular, government initiatives are looking to expand their tech reach, such as:
Plan 111Mil

: A government-sponsored program to train 100K developers by 2020.
Entrepreneurs' Law:

A pro-business law to

reduce registration times and costs for entrepreneurs, allowing them to set up businesses online in just one day. In

addition, the law aims to give 75% tax deductions for tech start-ups.
Programa Aceleradoras Buenos Aires Emprende:

a Buenos Aires initiative to invest

AR$28 million (US$3.5 million) in local entrepreneurs.
English Skill Rankings
Not only do 6.5 million Argentines speak English: they also have the top English skills in Latin America. With a global rank of 27, Argentina is a clear leader, according to the EF EPI Rankings: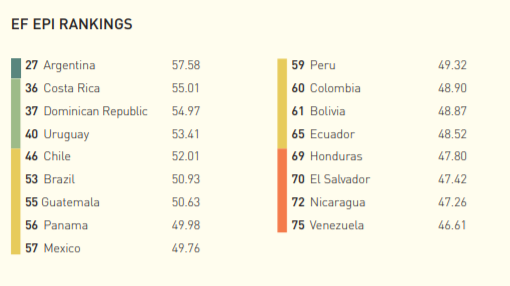 This also gives Argentina an edge when it comes to software outsourcing. U.S. companies will see these top English skills as a huge bonus.
Cultural Compatibility
Argentina also has strong cultural compatibility with the U.S. It's consistently ranked "very good" for Gartner's Cultural Compatibility score. This is likely because it's located within the Americas, but also because of a history of U.S.-Argentine business relationships.
Because Argentina software developers have experience working with the U.S. - as shown by the company examples and graphics above - they're also more likely to be successful in adapting to American business culture.
Cost Benefits
Hiring Argentine developers is also a cost-effective option. For example, the average rate for a senior developer can range from $20/hr - $50/hr+ depending on the programming skills, languages and seniority. Given the rising costs of developer salaries in the U.S., salaries in Argentina are comparatively affordable, while also maintaining high quality.
Timezone Coverage
Finally, a huge advantage of Latin America over the rest of the world is its time zone Coverage. According to World Time Buddy, Argentina shares eight working hours with the U.S. This is a big plus, compared to Asian countries with zero overlapping hours and Eastern Europe with 4-5 hours overlapping hours:
When it comes to software outsourcing in Argentina, these overlapping hours can be a lifesaver in terms of communication and deadline-based work.
Final Takeaway
In the end, Argentina takes the #1 spot for two of the most important skills for software outsourcing: #1 in software engineering worldwide and #1 in English skills in Latin America. In addition, Argentine developers have a strong educational background, a variety of programming languages and a thriving tech scene that drives innovation and high-quality services. They also have governmental programs to enrich their tech economy and a booming Argentina app outsourcing economy.
From a logistically perspective, Argentina is the ideal place for nearshore development because of the cost benefits involved in software development in Argentina. In addition, their 8-hour time zone coverage is ideal for project management and deadline completion. It's also the time to strike, as many entry-level Argentine software developers are looking for new jobs.
Lots of factors go into hiring nearshore developers, but Argentine programmers just may be what you're looking for. We sure think so!
TECLA was extremely helpful in ensuring that the right developers joined our team.
We've had great results with TECLA's recruiting. The developers we hired allowed us to drastically increase the pace of our development process and try new things more efficiently. This is crucial for us as we continue to grow!
Start
Hiring
---
Fill out the following form if you'd like us to reach out with more information.