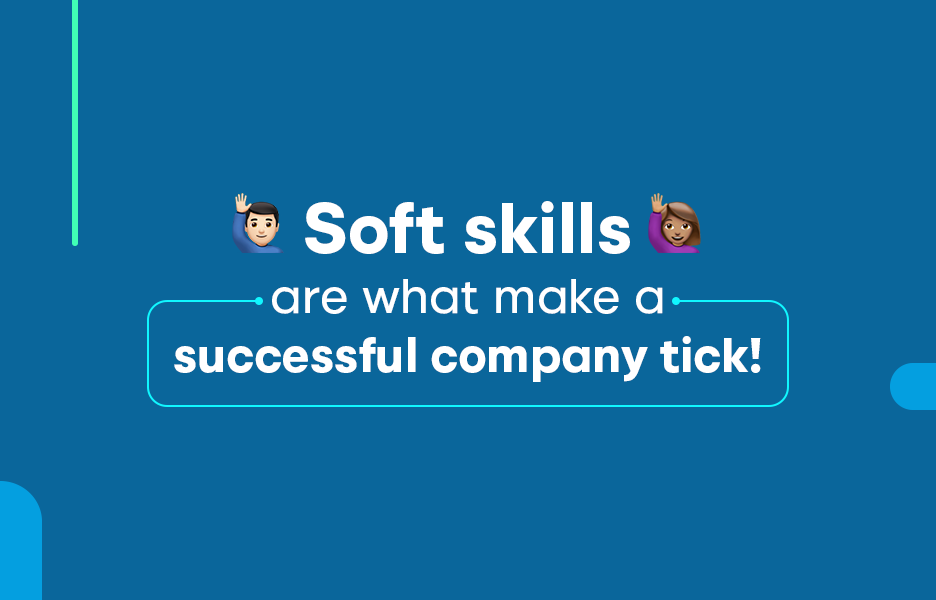 Remote companies don't just want the technical skills anymore. Rather, they're looking for well-rounded candidates who also have soft skills. Soft skills are key: without them, workers get frustrated, teams get stuck and companies slow down. Soft skills are what make a successful company tick. If you're looking for the top soft skills to impress any remote tech company, you've come to the right place. Let's soften up our skills!
1. Self-Starter
Statistics suggest that working from home makes you more productive… that is when you're not taking a Netflix break or getting distracted by dirty dishes. Remote work requires you to be a self-starter. This means you have no trouble completing your tasks - even with the endless distractions of a home office.
Being a self-starter is also about speaking up. If you're waiting for a deliverable to complete your side of a project, don't just wait. Follow up. Ask for other tasks while you're waiting. Moreover, a self-starter is somebody who flags problems or inconsistencies. Instead of "letting go" of small issues, you should send notes on any trouble areas. Don't be afraid to do this! Clients will be grateful for your thoroughness.
In your interview, you can demonstrate self-starter skills by having a project or portfolio ready to share with the client (when prompted of course). Share your screen and showcase your ability to prepare materials beyond expectations.
2. Strong Communicator
Communication is essential to a successful remote company. The hallmarks of a great communicator are: write emails that are clear and concise, follow up on issues that have dropped out of view, share insights in an accessible way, listen to others attentively and give feedback in a positive yet constructive way.
When it comes to improving your communication skills, you should try to maintain a firm yet friendly tone. You should proofread messages for clarity (don't just click send!). You should also know when to elevate an issue to a video call. Try to avoid massive email chains that confuse everybody. One of the best ways to improve your communication style is to find a team member whose style you admire and imitate their wording and tone whenever possible. The best communicators are never dismissive about others' confusion or questions.
In your interview, you can show strong communication skills by responding to the interviewer with poise and clarity. Another good way is to follow up the interview with an email that showcases your written ability to communicate.
3. Time-Aware
Staying time-aware can be tricky these days. With so many different time zones and tasks, it's no wonder companies are struggling to hire employees that are aware of their use of time. This ranges from managing your time to complete tasks but also being able to properly estimate how long a task will take you. In addition, a time-aware worker will know that a 9:00 a.m. deadline may actually be a 12:00 a.m. deadline, depending on the time zones.
To improve your time-aware skills, it's key to manage your tasks successfully. You can try a project management tool like Asana or Trello to help keep you on track. Whatever you decide, you should have a way of keeping everything important on your radar. Don't forget about time estimation either! Keep a spreadsheet on how long similar tasks have taken you in order to estimate properly. You might also consider a tool like WorldTimeBuddy to keep your clients' hours in order.
If you want to demonstrate time-awareness in your interview, be sure you're on time and confirm the time difference as well. You should also have considered how to best use the interviewer's time - i.e. what projects or skills you can showcase that are relevant to the job. Leave the long winding stories for another time!
4. Tech-Savvy
Remote companies need employees who are smart tech users. This goes way beyond common tech knowledge. Just because you have LinkedIn doesn't make you tech-savvy. For example, do you know how to use all of LinkedIn's features for the benefit of a business? Tech-savvy refers to the kind of person who knows what the latest tools can do.
Depending on your job, tech-savvy can involve programming languages, equipment, time management tools, company-wide software, etc. To improve your tech-savvy qualities, look up tech know-hows so that whenever you have a question, you can easily look it up. Tech-savvy also means documenting your processes for other people on your team. Suggest documenting how to use certain key programs for your company - they will love it!
In the interview, show your tech-savvy self by having your video call technology set up for success. You can also use the screen share button to show a recent project you've been working on. Demonstrate your comfort level with technology in every aspect of the video call.
5. Work-Life Balance
Keeping up a work-life balance isn't usually on a soft skills list… but companies these days need employees who are balanced in their working habits. That's because burnout is one of the top problems of remote work. Companies are looking for employees who know when to log out of company email and set boundaries between their personal and professional lives. Burnout and overworking can be huge issues for companies, as quality is typically reduced when an employee is worn-out.
To improve your work-life balance, you should set clear routines and boundaries between work and play. For many who work from home, setting a regular schedule can be a good place to start. More importantly, consider "starting point" and "ending point" activities to create transitions to and from work. For example, some remote workers find that starting the day with a cup of coffee is a good starting point while shutting down the computer is an excellent ending point. Make rituals so that you don't find yourself working until 8:00 p.m. without realizing it.
To show your work-life balance in the interview, talk about your personal life a little bit (especially at the start or end of the interview). Share some of your hobbies or favorite activities so that your employer can see you're well-balanced.
6. Growth Mindset
Remote companies are also looking for workers with growth mindsets. A growth mindset is the attitude that you can always improve, develop and learn. In other words, you take feedback with an open mind and welcome suggestions to improve your skills.
Remember that a growth mindset is extremely important to remote companies who want to develop talent over time. To get a growth mindset, rethink how you see feedback and criticism. Try to take it all in and apply others' suggestions so that you can always improve. Don't stay stubborn because "you know best." Listen to your reports and team members.
In the interview, demonstrate a growth mindset by showing a willingness to participate in professional development activities. By displaying good listening skills, you'll also get a thumbs up from the employer.
7. Results-Driven
Remote work is unique in that it's results-driven. Lucky for you, remote companies don't care how much time you spend at your computer: they care that you deliver. By staying results-driven, you'll show the remote company that you're invested in their projects.
Having a results-driven mindset is linked to being a self-starter. As you improve your results-driven mindset, you should be thinking about the project and your role in it - instead of just completing tasks you're assigned to. Think about the big picture. You should also meet deadlines, as remote companies can only evaluate you based on the quality and timeliness of your work. Take it seriously.
Show off your results-driven mindset by sharing past projects with the employer. You can also discuss the way you manage projects and tasks.
8. Collaborative
People have the image of remote workers alone in their home offices, but nothing could be further from the truth. Remote teams are highly collaborative. Especially in the tech world, things don't get done in isolation, but rather by discussing, working closely with others and giving feedback within dynamic teams.
Collaboration goes beyond just attitude. You can improve your collaboration skills by thinking about how you communicate and listening to your team members. Make sure team communication is strong and there are no break-downs or misunderstandings. Try to create a sense of team bonding, so that collaboration is even tighter.
To demonstrate collaboration, talk about your success in a team environment and examples of when you were a team player.
9. Reliable
Reliability is another top soft skill in the remote world. Every company has dealt with the "ghosting" worker, who for some reason, will miss a deadline and not respond to email for a week. This lack of reliability is a huge risk for companies, especially those that depend on teams.
You can improve your reliability by always responding to messages (even just to say "I'm working on it") within 24 hours. You should also plan in advance and send any out-of-office notices far in advance, so there's no confusion. Reliability is also staying on top of your work so that you're not requesting extensions for every project.
Showcase reliability by being on time and prepared for your interview. Follow through on any information that your employer requested.
10. Cultural Fit
Last but not least, remote tech companies are also looking for a good cultural fit for their companies. This means that your working style jives with the company culture. Oftentimes, company culture refers to their attitudes about work-life balance, their working style, and their company priorities.
During the interview, it's important to be honest about yourself so that the company can determine if you'd be a good fit. Also, research the company beforehand so you have a good idea of what kind of company it is.
Final Takeaway
Remote tech companies don't just want the technical skills, they also want the soft skills. For many remote companies, they're looking for nearshore talent - like Argentina - to fulfill their company needs. It's key to stand out by focusing on these 10 soft skills that are sure to impress any remote tech company.
TECLA was extremely helpful in ensuring that the right developers joined our team.
We've had great results with TECLA's recruiting. The developers we hired allowed us to drastically increase the pace of our development process and try new things more efficiently. This is crucial for us as we continue to grow!
Start
Hiring
---
Fill out the following form if you'd like us to reach out with more information.