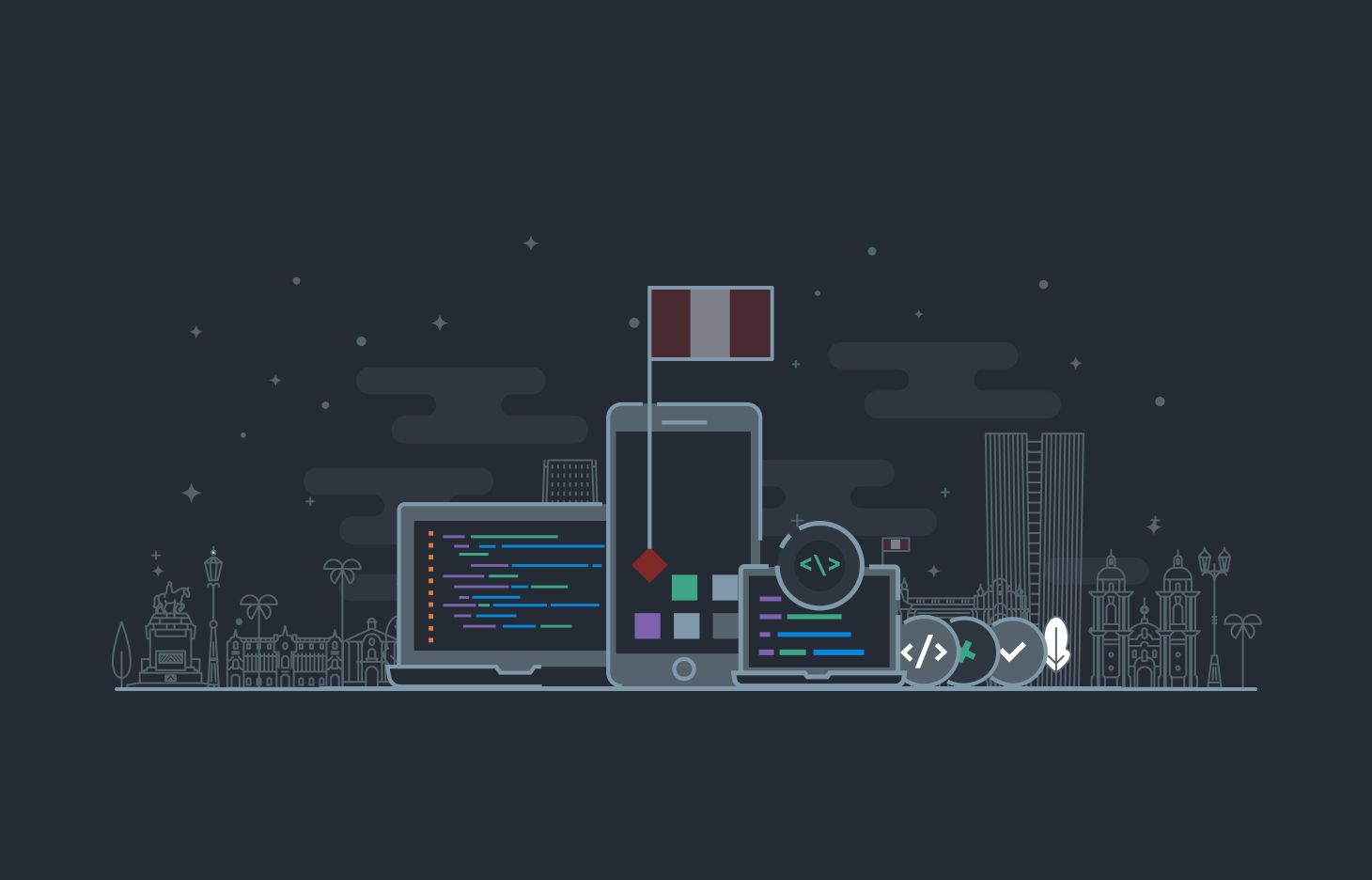 Peru's tech scene is skyrocketing. In fact, Peru ranks in the top 10 worldwide in the percentage of new businesses. Peru's thriving tech scene has also resulted in cutting-edge start-ups and excellent Peru software development companies. All these factors have come together for Peruvian developers to rank as some of the best in the world.
Today we'll go in-depth about software development in Peru and why you should take a closer look at Peru as a top nearshore talent pool.
Developers by the Numbers
According to a Stack Overflow report, Peru has 38,136 software developers. This is a sizeable amount of talent and this pool continues to expand.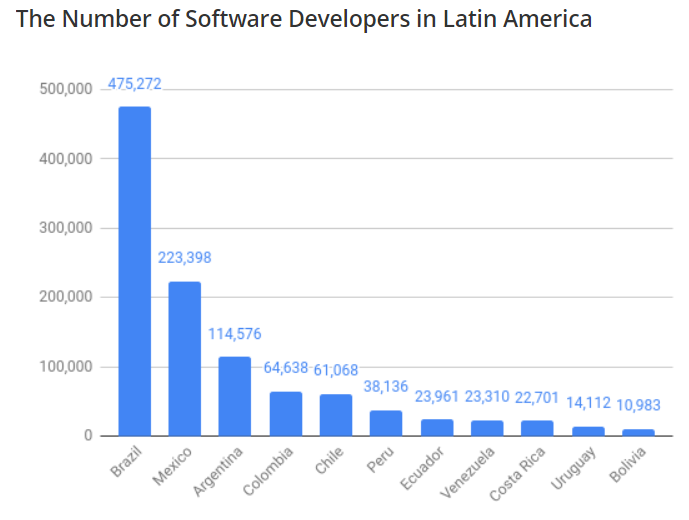 When you consider the fact that 33% of Peruvian software developers are looking for work, you have the perfect storm for a software outsourcing destination. When it comes to software development in Peru, you won't want to miss out.
Programmer Skill Rankings
Peruvians have placed well on programmer skill rankings in recent years. First of all, Peruvians now rank on the HackerRank leaderboard, with the first Peruvian developer appearing at 54th place (out of 1,755 top programmers worldwide). A dozen of excellent Peruvian programmers have made the list, showing the competitive talent available in Peru.
In addition, Peru ranked quite high on the TopCoder rankings, taking 26th place. The only other LATAM countries on this list were Brazil and Argentina.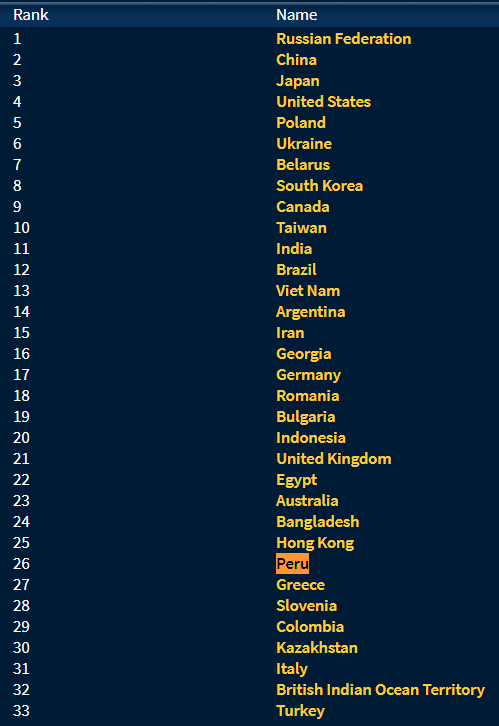 This ranking also demonstrates that Peru continues to grow a strong talent pool, both in Peru app outsourcing and Peru software outsourcing.
Tech Educational Background
Peru has boosted its tech education within the last ten years to keep up with innovative outsourcing markets. The following table shows the distribution of organizations in Lima's tech network, showing that 9% of the network is university involvement.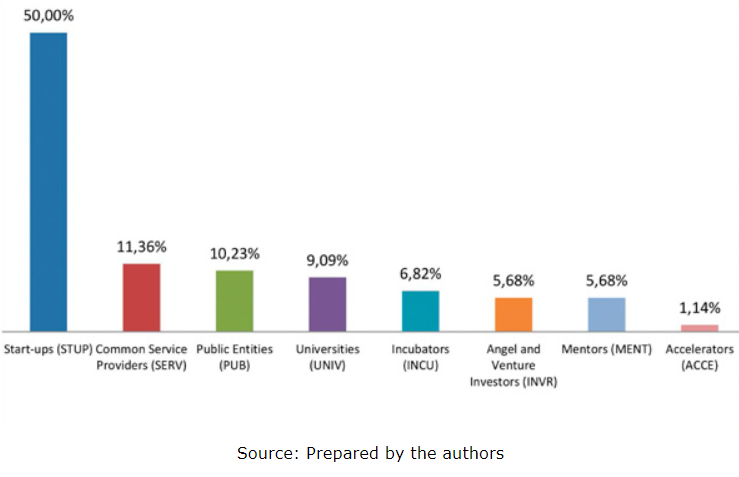 This university involvement in Peru's tech scene is crucial. In fact, recently Peru started a key higher education institution called UTEC (University of Engineering and Technology), which is considered the most modern in Latin America and cost $100 million. UTEC has become an essential part of Peru's spike in tech and engineering graduates.
Besides UTEC, Peru also has some excellent universities for tech training. In particular, the Pontifical Catholic University of Peru and the University of the Pacific have been cited as award-winning institutions for tech.
Specific Programming Skills
Peruvian programmers have a range of programming skills. According to a report by Datanalyze, the programming language market share in Peru includes PHP, ASP.NET, Java, Lua, Python, CSS, Perl, and HTML:

In addition, according to Stack Overflow, Peruvian programmers love JavaScript, dread PHP and have a higher demand for JavaScript, as this chart shows: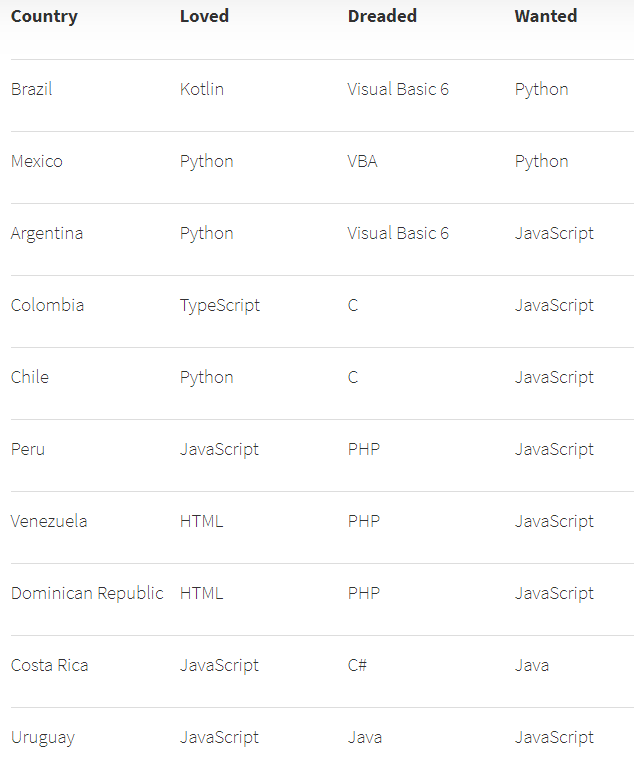 This focus on JavaScript also extends to related technologies. For example, MERN stack is a popular full-stack in Peru because of its close connection with JavaScript.
Tech Scene Overview
The Peruvian tech scene is hopping. To give you a sense of the big growth, Peru now stands as one of the top 10 countries with the highest percentage of new businesses: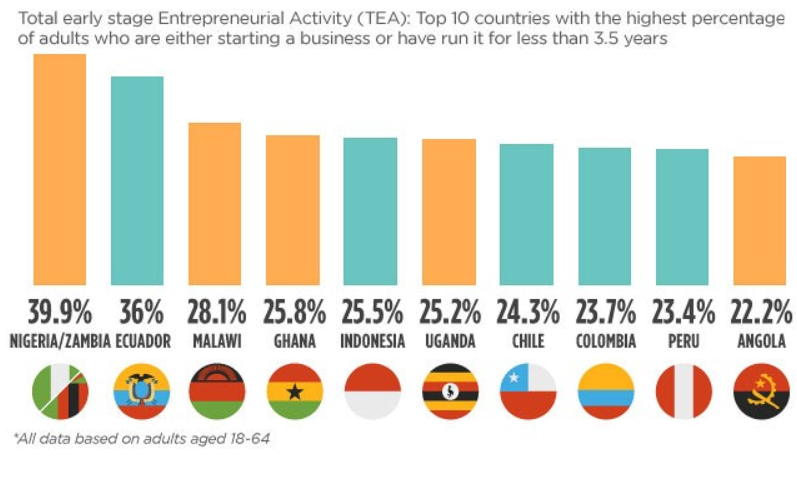 Peru joins Chile and Colombia in the top 10 with 23.4% of new businesses. This is good news for Peru software outsourcing, as it shows huge growth.
In addition, we can see how software outsourcing revenue in Peru is rising over time and continues to take on new importance: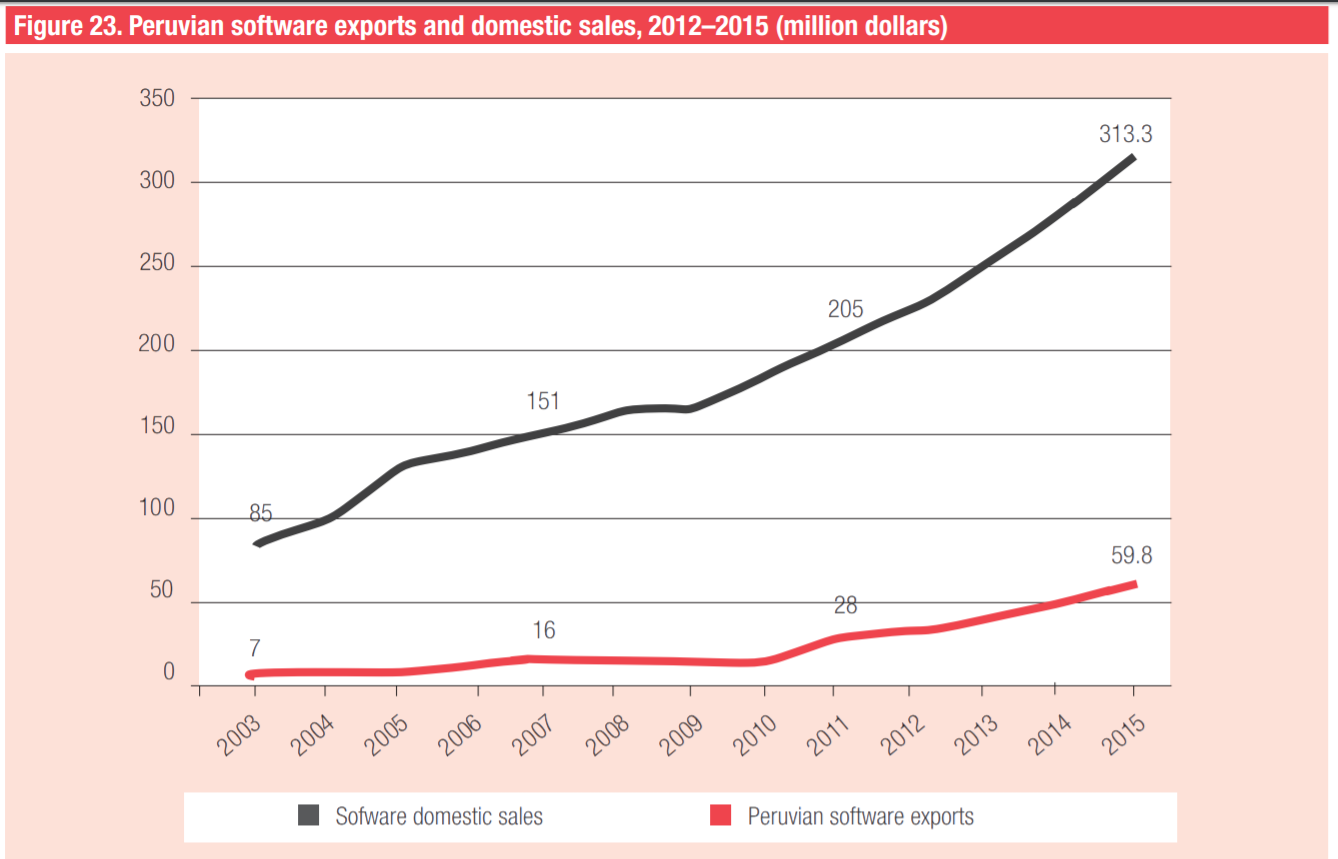 In fact, by breaking down Peruvian industries, we can see how the top 8 industries include computer software and information technology and services:



The fact that IT and services takes the #1 spot shows that Peru's top industry has become IT. Statistics from the Minister of Production confirm this growth: 430 Peruvian companies doubled their income over the course of last year, generating $9.4 million in revenue.
With a tech ecosystem that's rapidly expanding, we can expect even more of Peru in the future.
Hub for Peru Software Development Companies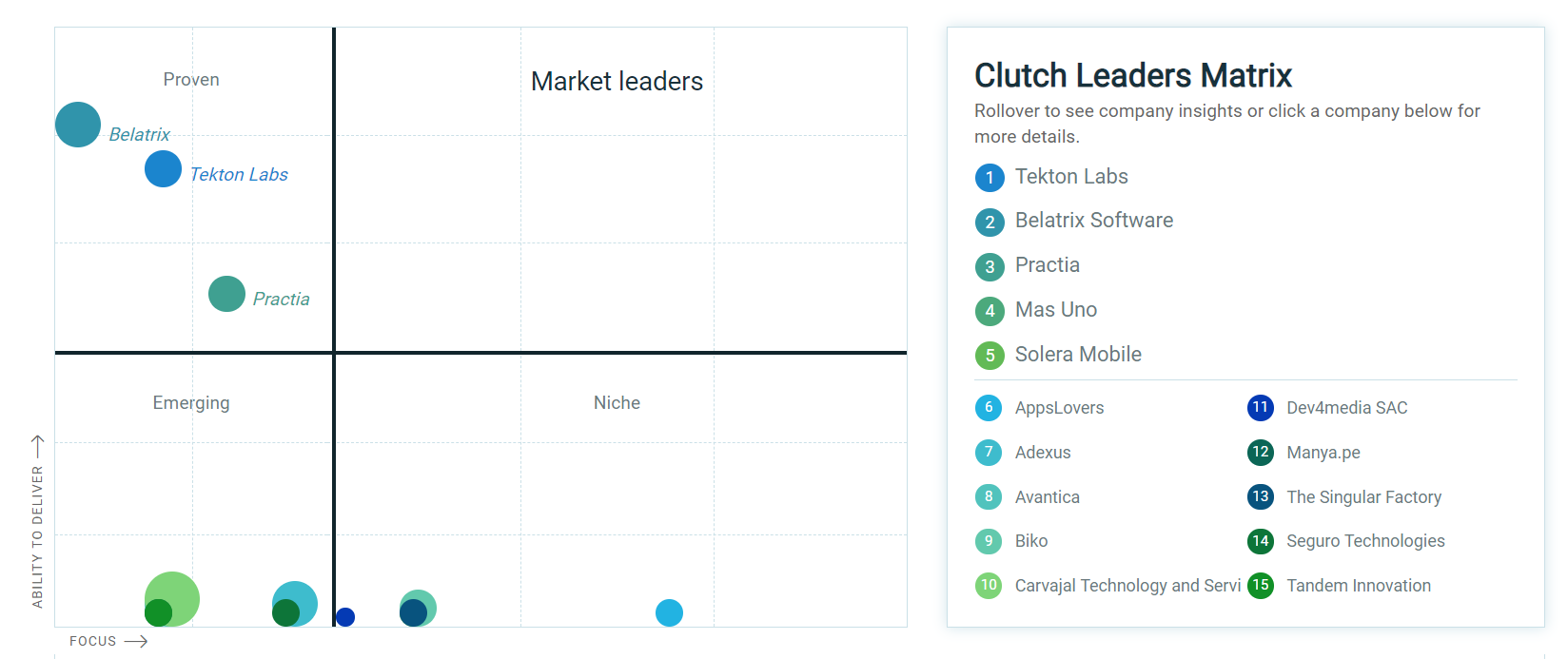 Peru has an excellent reputation when it comes to start-ups and software development talent. According to Clutch, the top 5 market leaders for Peru software outsourcing include:
Tekton Labs

Belatrix Software

Practica

Mas Uno

Solera Mobile
In addition, Peru has a thriving start-up culture. In fact, Peru saw its first tech unicorn in 2016, Cinepapaya. Besides this, other top start-ups include: Crehana, Laboratoria
Chazk, Mi media manzana, Culqi, Fitco, Bitinka, and Space AG.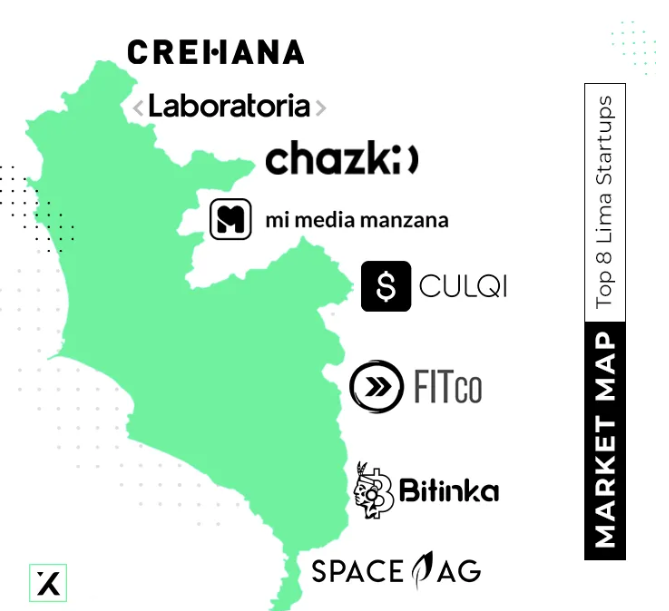 What's more, Peru attracts foreign companies as well. Due to great talent, some tech giants have offices in Peru, including:
IBM

Sabre

GE

Oracle

Rappi
Tech Initiatives
Peru has some exciting tech initiates both from the government and the private sector.
Startup Peru:

Investment in Peruvian startups. In 2018, Startup Peru saw $9.1 million in seed money for startups.
Innovate Peru:

Started by the Ministry of Innovation, this initiative attempts to boost tech companies and business for a stronger tech ecosystem.
UTEC Ventures:

An accelerator behind the creation of UTEC in Peru for tech-focused higher education. This accelerator now has 50 companies under its wings.
MIT Regional Entrepreneurship Acceleration Program:

A two-year program from MIT to strengthen local business and tech ecosystems.
English Skill Rankings
According to the EF EPI rankings, Peru falls in the middle of the pack when it comes to English skills.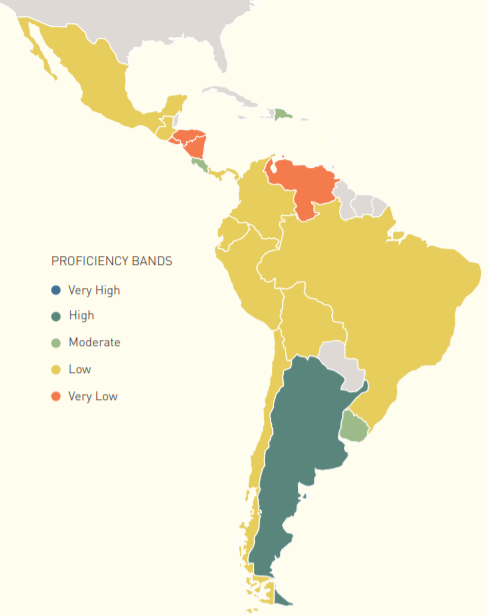 However, engineering students have a higher command of English than the general population. Anecdotally, Peruvian software developers have an advanced level of English.
Cultural Compatibility
Peru has strong compatibility with U.S. work culture. Several times in recent years, Peru has been listed on Gartner's Top Outsourcing Destinations, along with a handful of other LATAM countries. In addition, Peru's booming start-up culture shows its ability to compete with global companies. Generally speaking, Peruvian developers have experience working with global companies.
Cost Benefits
As mentioned above, Peruvian software developers have great talent and cost-effective rates. Compared to top software developers worldwide, the rates here are affordable. On average, the rate for a senior developer can range from $20/hr - $50/hr+ depending on the programming skills, languages and seniority.
Timezone Coverage

Like all Latin American countries, Peru has excellent time zone coverage for U.S. companies. Unlike Eastern Europe and Asia, Latin American countries can get up to 8 hours of overlap with U.S. companies. This is great news for software development in Peru.
Final Takeaway
Overall, Peru is the best choice for software outsourcing. Peruvian developers consistently rank as some of the best in the world. In addition, Peru has a booming tech scene, with over 23% of new businesses on the market. They also show an innovative start-up culture and top-of-the-line Peru software development companies - not to mention cost-effective rates and overlapping time zones!
As you search for excellent software outsourcing destinations, don't forget to include Peru!
TECLA was extremely helpful in ensuring that the right developers joined our team.
We've had great results with TECLA's recruiting. The developers we hired allowed us to drastically increase the pace of our development process and try new things more efficiently. This is crucial for us as we continue to grow!
Start
Hiring
---
Fill out the following form if you'd like us to reach out with more information.