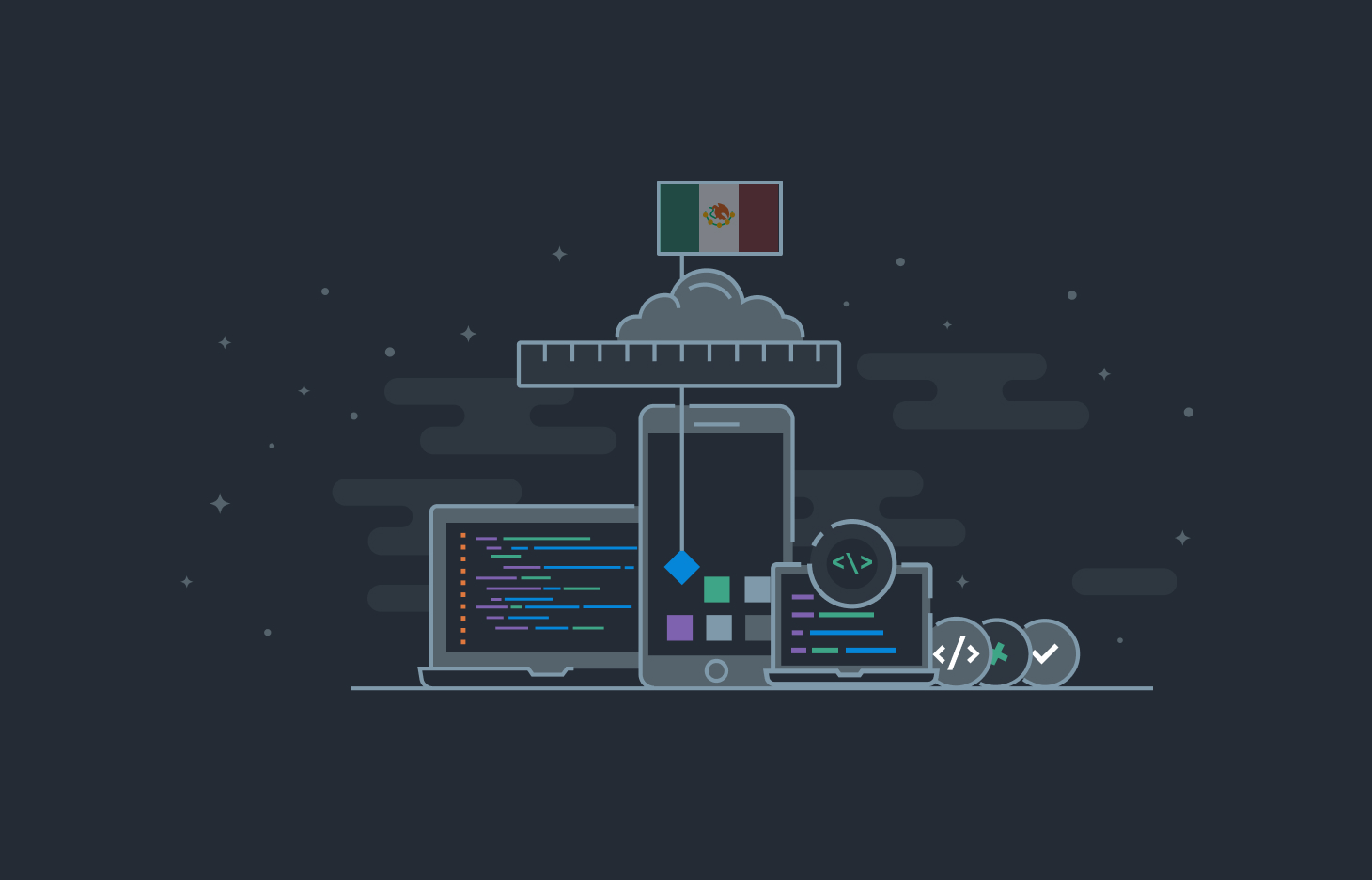 If you're looking for a nearshore development location that you can trust, Mexico is an excellent option. It has a big pool of top candidates and a prestigious IT educational system. The tech startup culture is also thriving. Not to mention that Mexico shares a border with the U.S., which means cultural exchange and matching time zones.
Let's take a closer look at why Mexico software outsourcing is a must-have.
Developers by the Numbers
According to 2018 data by Stack Overflow, there are 223,398 software developers in Mexico. That's the second-most of any Latin American country. (It's also more than the number of software developers in Ukraine.) This big number means a large pool of qualified candidates.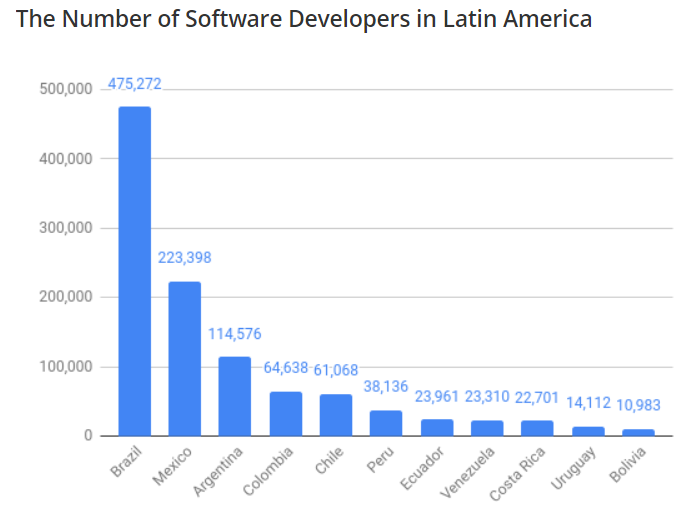 In addition to this pool, Mexico has the second most Latin American developers active on Stack Overflow. This is a good measure of how engaged programmers are with new tools and processes.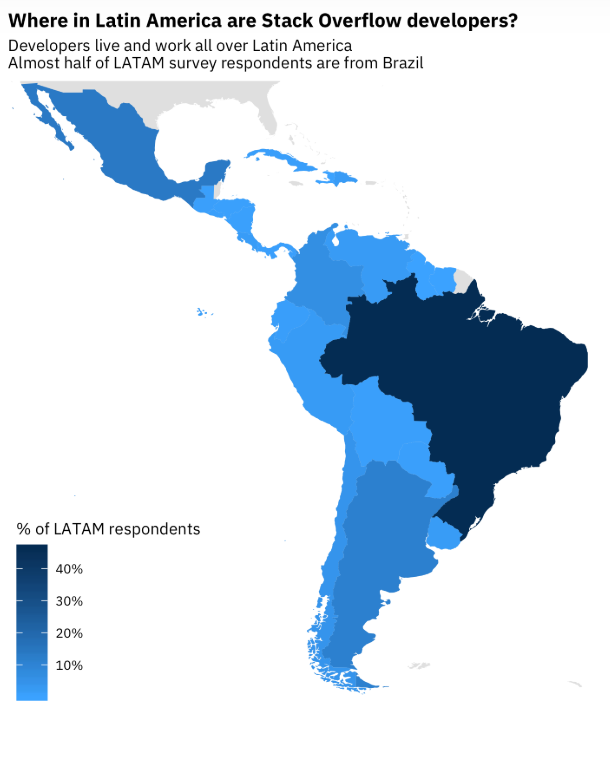 These two surveys suggest that many Mexican programmers are engaged in career development. This is good news for a software development company looking for top developer candidates.
Programmer Skill Rankings
In a ranking called the HackerRank Challenges, Mexico placed 33rd, above both Brazil and Argentina.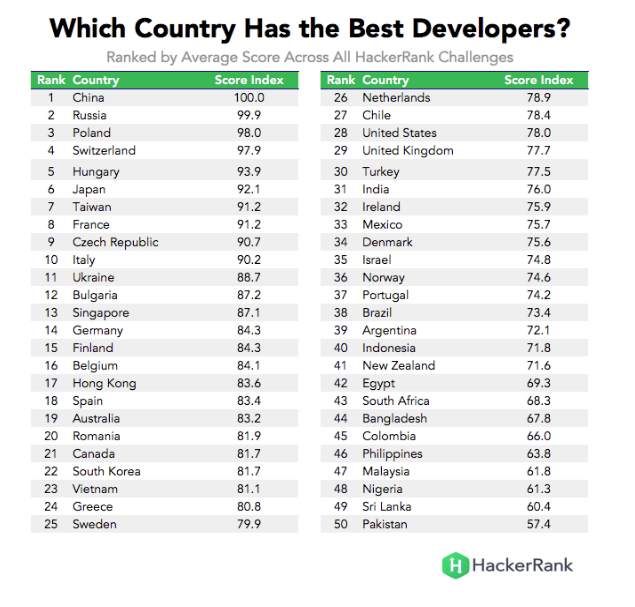 Moreover, Mexico has also anecdotally produced talented programmers and competes for top skills worldwide.
Tech Educational Background
Mexico has one of the most competitive tech education systems in the world. Mexico is sixth in the world for computer science students, with 13,000 graduates per year. Over the last 10 years, Mexico has steadily increased the number of STEM graduates. In overall number of engineering graduates, Mexico stands among the top countries: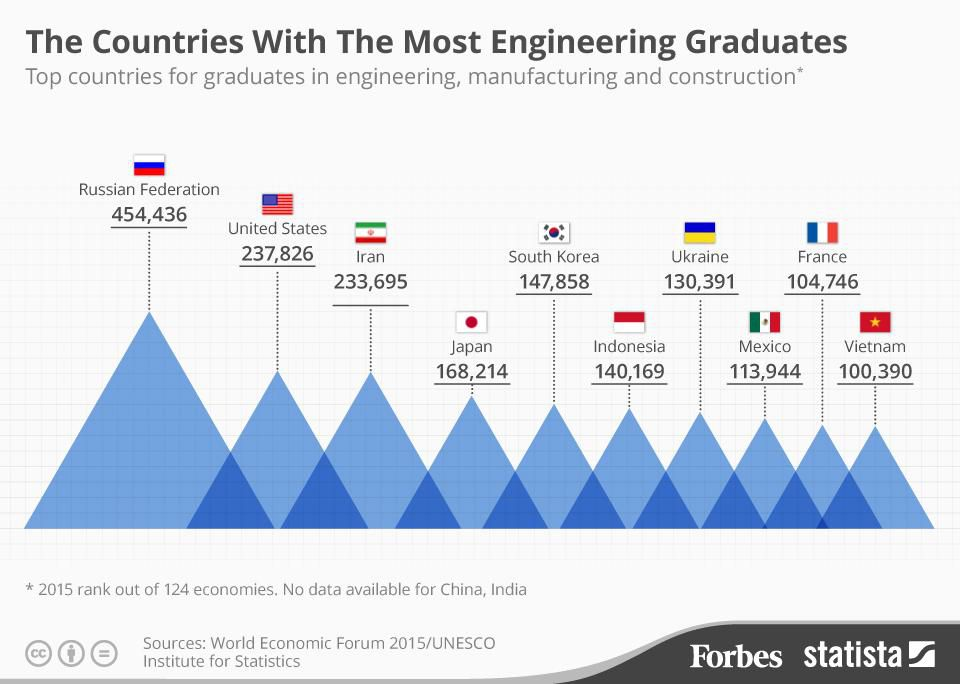 This is largely due to Mexico's ITESM (Instituto Tecnológico y de Estudios Superiores de Monterrey), which has boosted tech education across Mexico with 30 campuses in 25 cities.
Mexico also has nine universities listed on the Best Global Universities according to U.S. News & World Report. These top universities also help create a tech ecosystem for producing the finest tech graduates.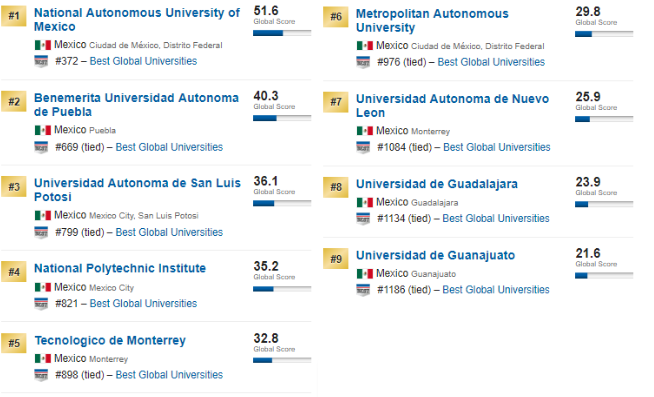 Specific Programming Skills
Software development in Mexico involves a range of programming skills. Generally speaking, Mexico is dominated by PHP and ASP.NET programming languages: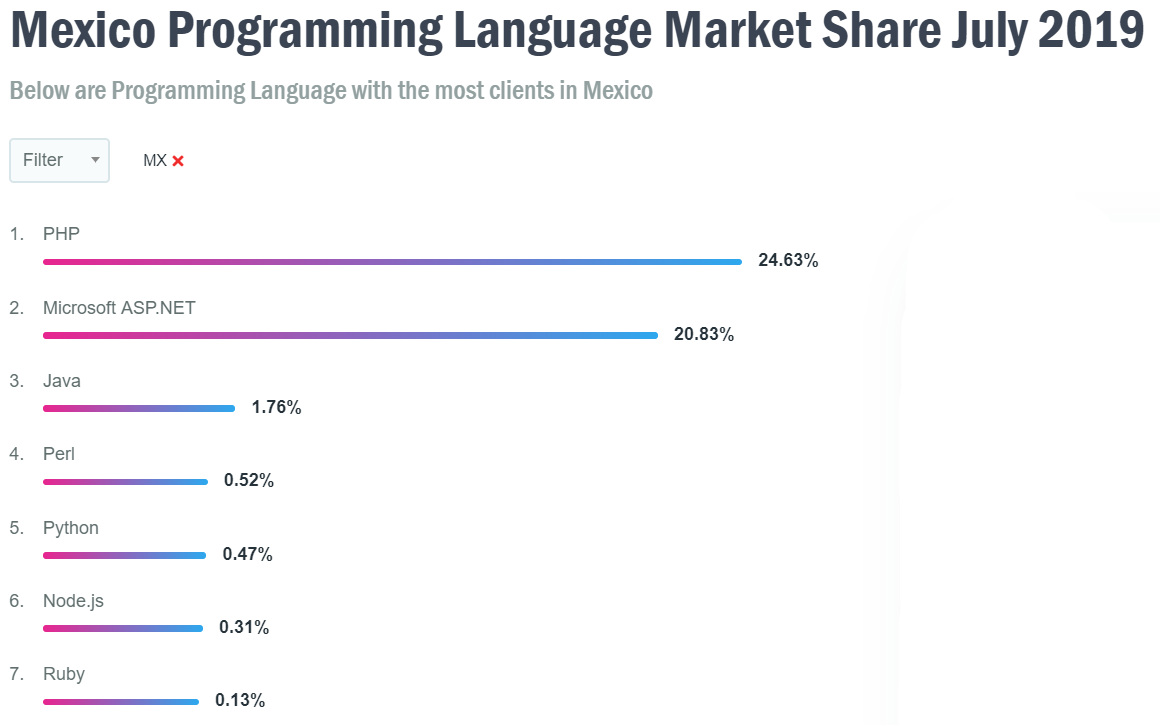 However, Mexican software developers also know newer languages such as Python, Node.JS and Ruby. Bonus: with Node.JS, programmers often also know all about MERN stack. Finally, as this chart by HackerRank shows, Java and C++ are also big languages for Mexican programmers.
In terms of what languages Mexican programmers enjoy: they love Python, dread VBA and most want Python, according to Stack Overflow. Overall, these skills are highly relevant for successful Mexico outsourced development.
Tech Scene Overview
Overall, Mexico's tech scene has been expanding rapidly. In particular, Mexico's government has made great efforts to modernize and digitize their tech foundation. While Mexico isn't the top performer in these categories, this chart shows its growth: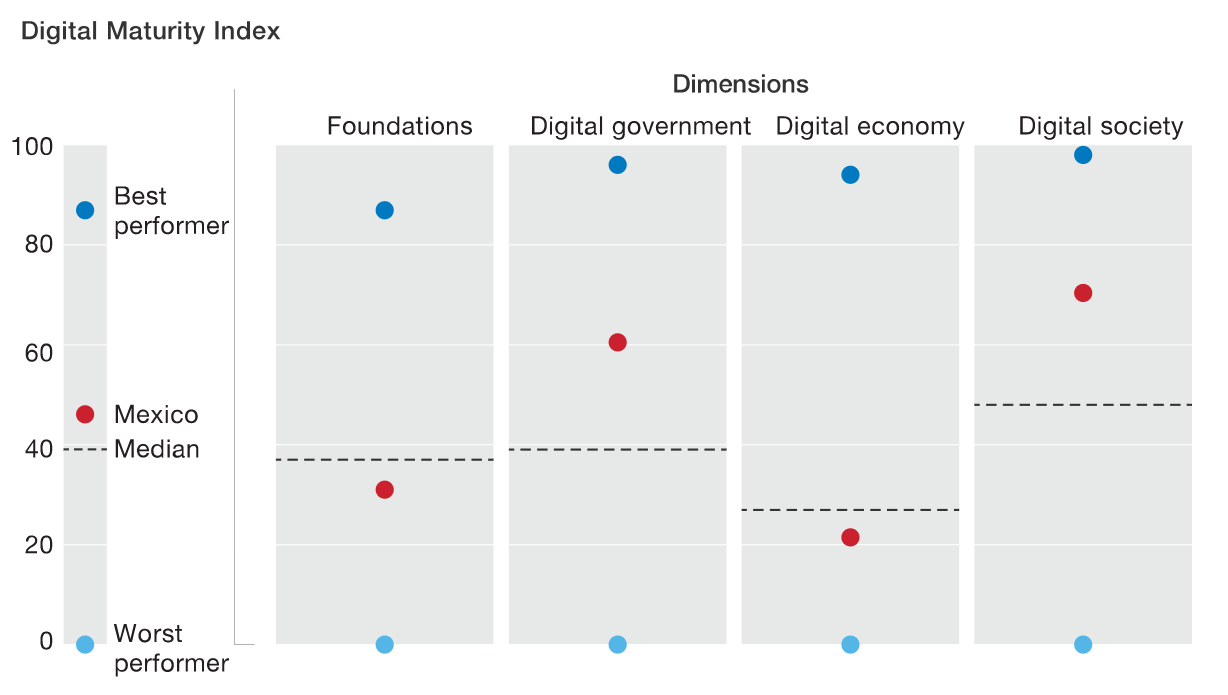 In addition, when ranked in automation readiness, Mexico places 23rd, above many other Latin American countries: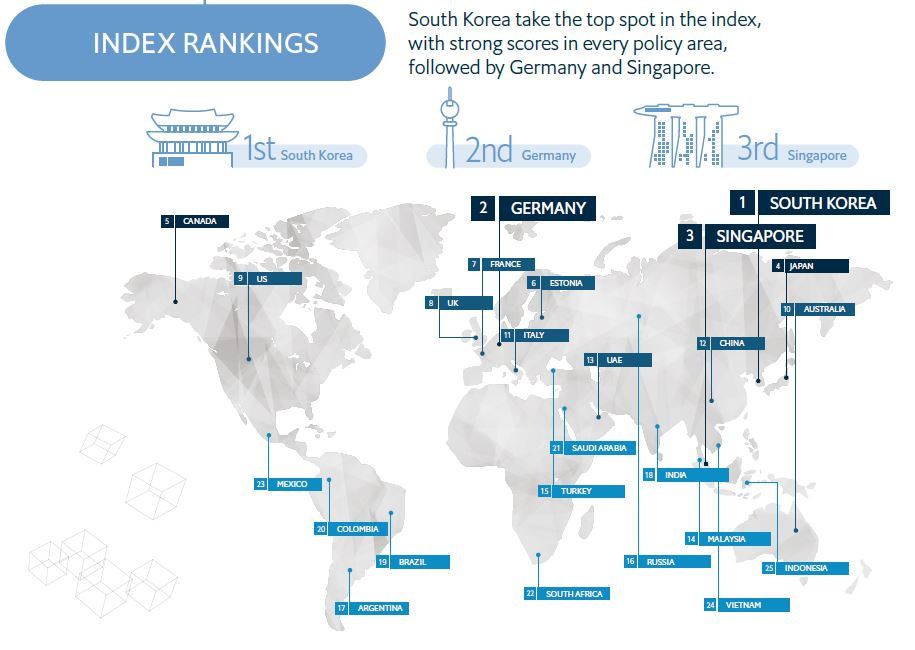 Another key element of the tech scene is Mexico app development. As you can see in this chart, Mexico app outsourcing has a diverse portfolio worldwide:

Hub for Mexico Software Development Companies
After Brazil, Mexican startups have received the highest level of investment with 59 deals and $80M of venture capital, including companies like:
Konfio

Yogome

Cornershop

Konfio

Clip

Wayra Mexico

NXTP Labs

Startupbootcamp

Tec Lean

Numa

MassChallenge
Mexico also has top-rated Mexican software development companies, such as:
Icalia Labs

Ingenia Agency

Smart Thinking

Wizeline

PSL Corp

Nolte
Another good sign is the number of foreign giants recruiting local talent in Mexico such as Oracle and Amazon. Overall, these examples demonstrate that the IT sector in Mexico is rapidly expanding, especially its tech foundation.
Tech Initiatives
Mexico also has new tech initiatives both in the private and governmental areas, including:
500 Startups: Latam:

This program gives funding and mentorship to local startups across industries.
INADEM (Instituto Nacional del Emprendedor) grants:

The government is trying to support startups by giving $658 to 620,000 entrepreneurs to boost the economy. Many of these companies are tech-related.
Creative Digital City:

A tech park in Guadalajara to support tech startups, including workspaces.
English Skill Rankings
Mexico doesn't have the best English skill rankings in Latin America, according to the EF EPI score.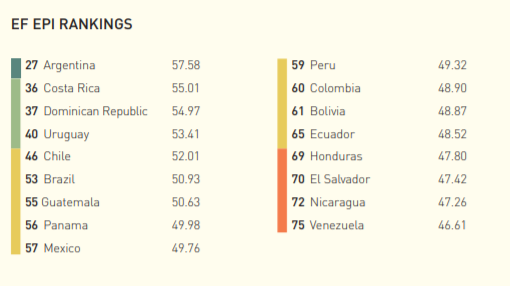 However, Mexico does have one benefit: it's a big country. While only about 5% of the population speaks English, that's about 5 million in the long run. Some of Mexico's large cities and border towns with the U.S. also show higher levels of English.
Cultural Compatibility
Mexico has an advantage above other Latin American countries: it shares a border with the U.S. That means that Mexicans generally have good working knowledge of U.S. culture, especially workplace culture.
In addition, Mexico is ranked as having good "ease of business" with a score of 54 in 2018, according to the World Bank. This is another benefit for companies looking to outsource software here.

Cost Benefits
The costs of hiring Mexican developers are quite cost-effective (which is why many tech giants are flocking to Mexico for tech support). On average, the rate for a senior developer can range from $20/hr - $50/hr+ depending on the programming skills, languages and seniority. This is very affordable compared to U.S. developer salaries.
Timezone Coverage
Mexico obviously shares time zones with the U.S., as it's just south of the border. This is great for having matching working hours. Besides this overlap, Mexico has the advantage of being close. Most flights to Guadalajara, for example, are within 5 hours of major U.S. cities:

Final Takeaway
Overall, Mexico is a great option for software outsourcing. Besides its large candidate pool and top tech educational system, Mexico is also competitive with a tech startup culture and the benefits of sharing a border with the U.S., including cultural know-how and overlapping time zones.
Mexico is also an excellent nearshore development option because salaries are affordable and there are millions of English speakers. Mexico also has great growth potential.
As you look for the ideal software outsourcing destination for your company, Mexico should definitely be on your list!
TECLA was extremely helpful in ensuring that the right developers joined our team.
We've had great results with TECLA's recruiting. The developers we hired allowed us to drastically increase the pace of our development process and try new things more efficiently. This is crucial for us as we continue to grow!
Start
Hiring
---
Fill out the following form if you'd like us to reach out with more information.