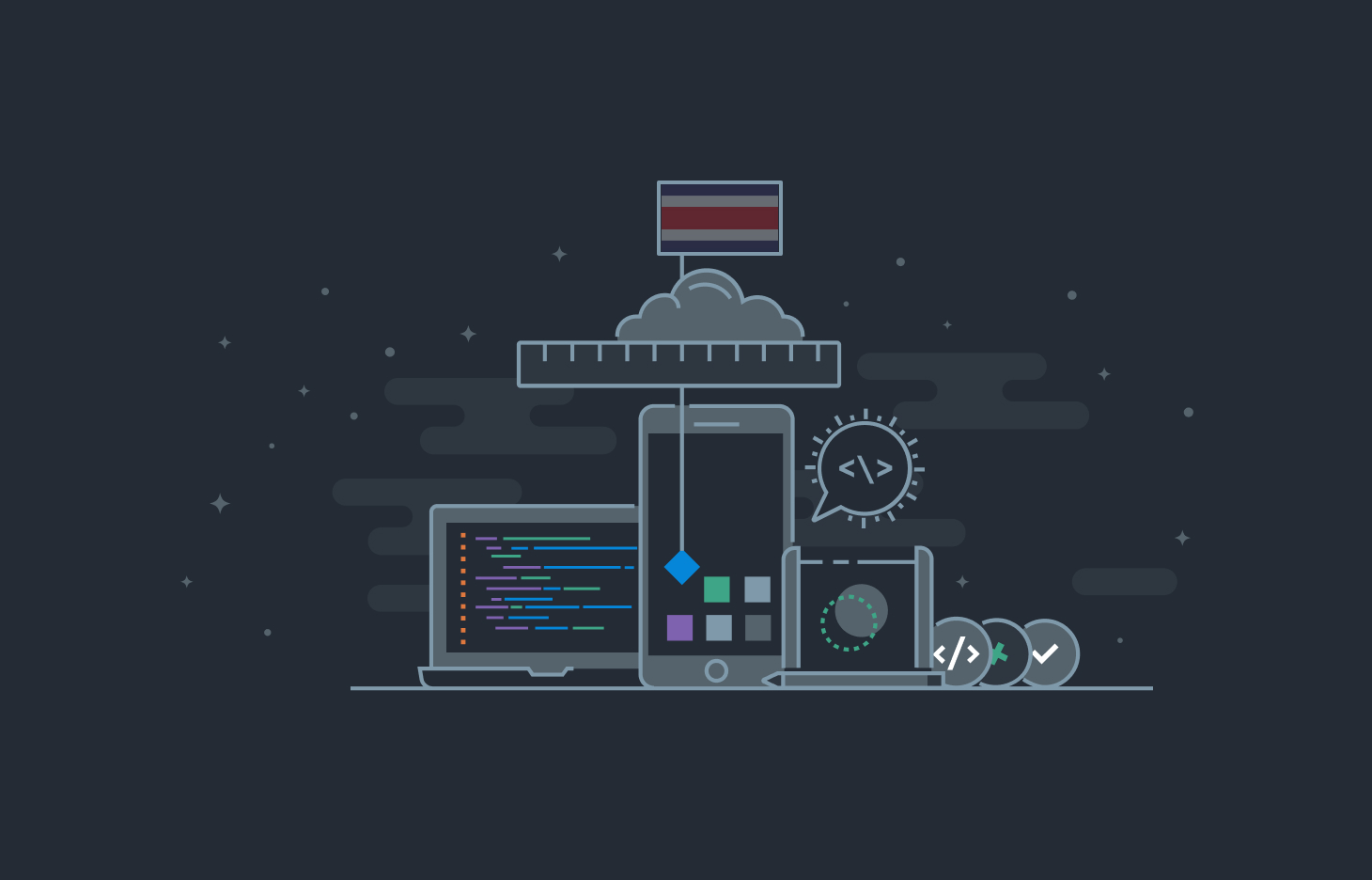 You may not know it, but Costa Rica is #1 in Latin America when it comes to the quality of human capital, educational system, innovative business, and English skills. With these four pillars, software development in Costa Rica is thriving.
If you're looking for a tech scene for top development talent, Costa Rica has some of the best out there. Today we'll take a closer look at software development outsourcing in Costa Rica.
Developers by the Numbers
Costa Rica may only have 22,701 software developers, but they're considered some of the greatest talents worldwide.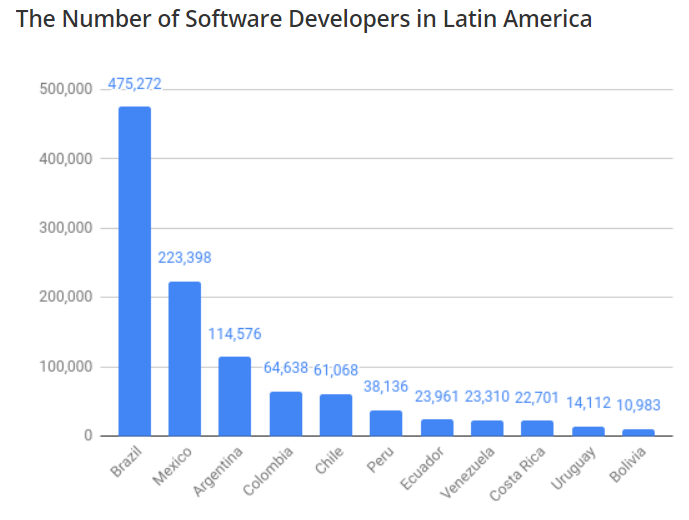 Costa Rica is consistently ranked as having the highest quality service talent in Latin America. According to the World Economic Forum, their workforce is #1 in human capital: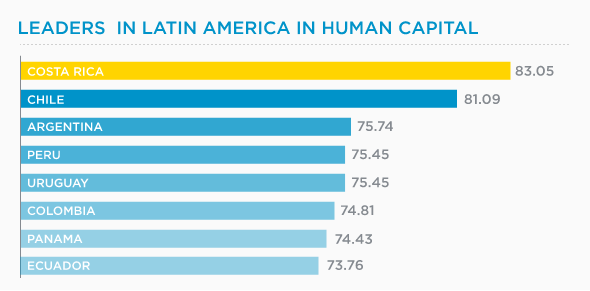 Costa Rica may be small, but it has the top-notch personnel you'll want for your next software development project.
Programmer Skill Rankings
Costa Rica also has top-of-the-line programming skills. As this ranking from Coursera shows, Costa Rica is competitive with other countries in technology services, ranking at #2 in Latin America and #27 worldwide:

Because Costa Rica is small, it doesn't appear on other ranking lists. That's because most popular rankings value muscle (big numbers and results) over quality. However, their reputation for high-quality services speaks for itself.
Tech Educational Background
Costa Rica leads the pack in quality of education. According to data from the World Economic Forum, Costa Rica received the highest score in educational systems in Latin America.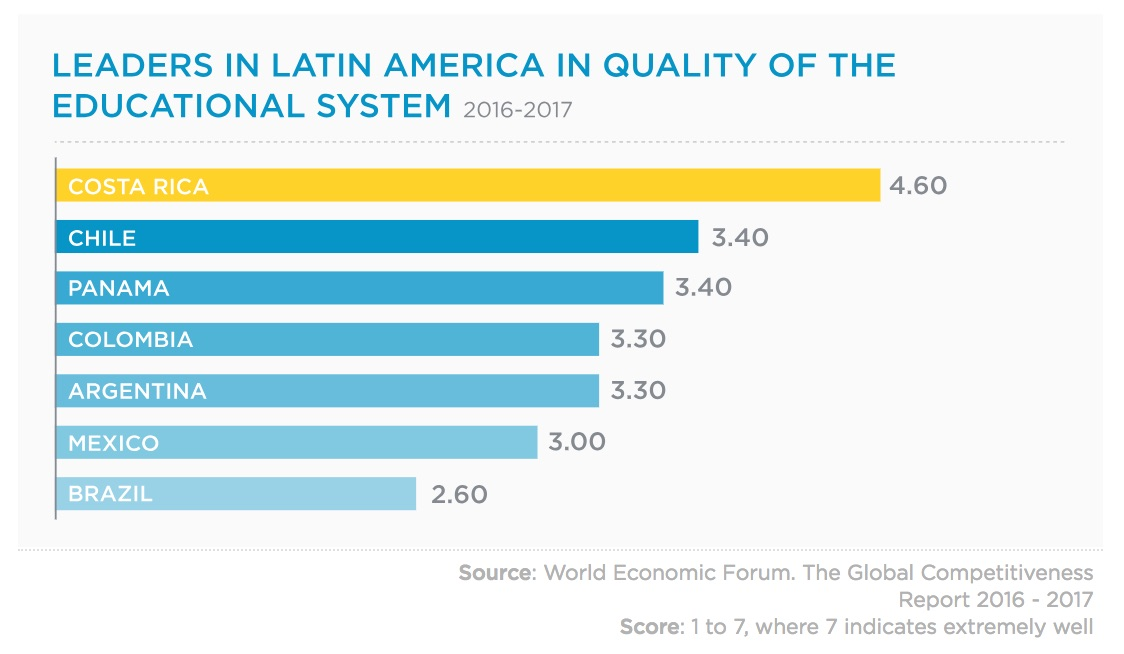 Costa Rica also has excellent statistics in terms of engineering-specific graduates. About 4,000 students graduate from the engineering program every year. According to university rankings, the Universidad de Costa Rica, Instituto Tecnológico de Costa Rica (TEC) and the INCAE Business School are the best in computer science, engineering, and tech-related fields.
Costa Rica is also actively expanding its tech prominence with partnerships. Texas Tech University is opening a campus in Costa Rica as a part of these partnerships.
Specific Programming Skills
Costa Rican software developers have a range of programming skills. According to market share research, their topmost demand languages include PHP, ASP.NET and Java.
A small fraction of demanded languages also include Lua, Node.js, Python, Perl, Ruby and Go.
Moreover, Costa Rican developers prefer JavaScript. They also dread C# and see a high demand for Java, as this chart shows: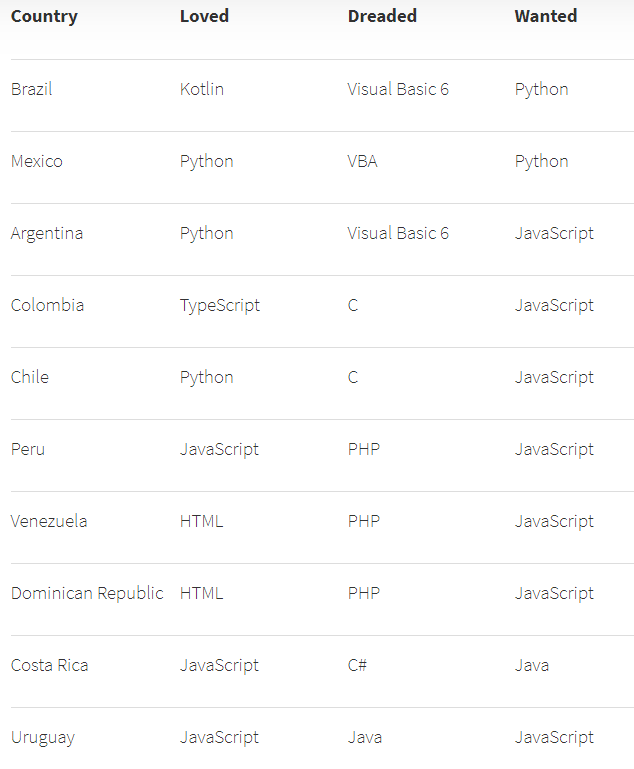 This focus on JavaScript also extends to related technologies. For example, MERN stack is a popular full-stack in Costa Rica, as it combines some of the popular languages such as Node.js.
Tech Scene Overview
The tech scene in Costa Rica is thriving. In 2018, Costa Rica exported $3.3 billion in IT-related services. They also rank #1 in innovation in LATAM: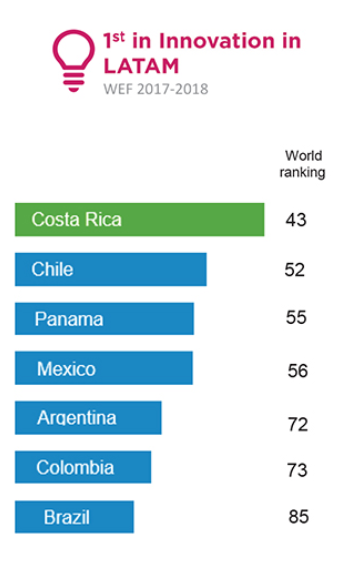 Moreover, in this ranking, Costa Rica had a score of 37 for their production sophistication, showing their worldwide competitiveness.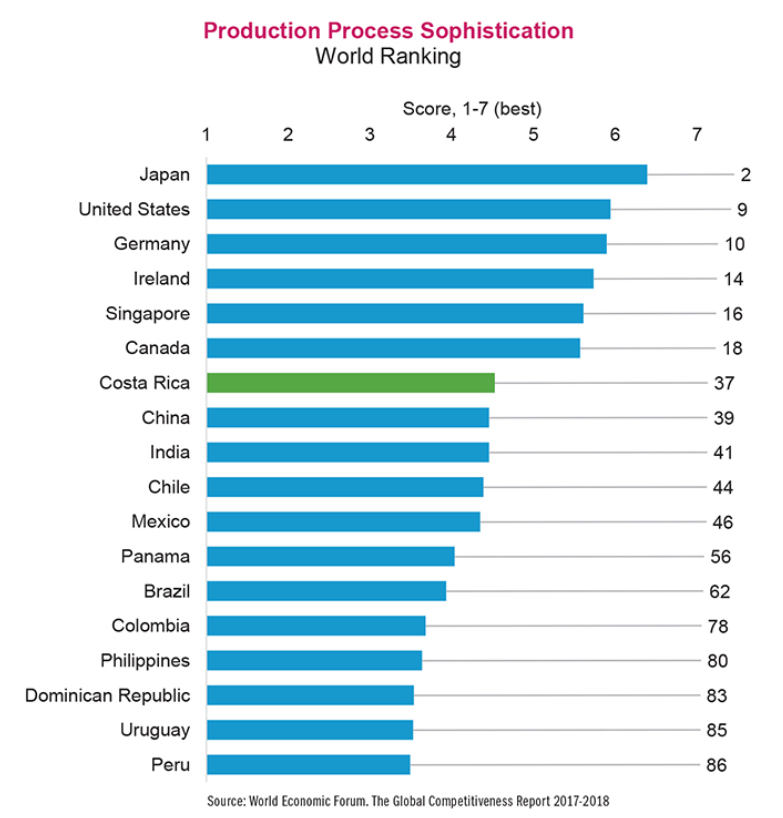 They also lead in statistics on quality human resources, as shown below: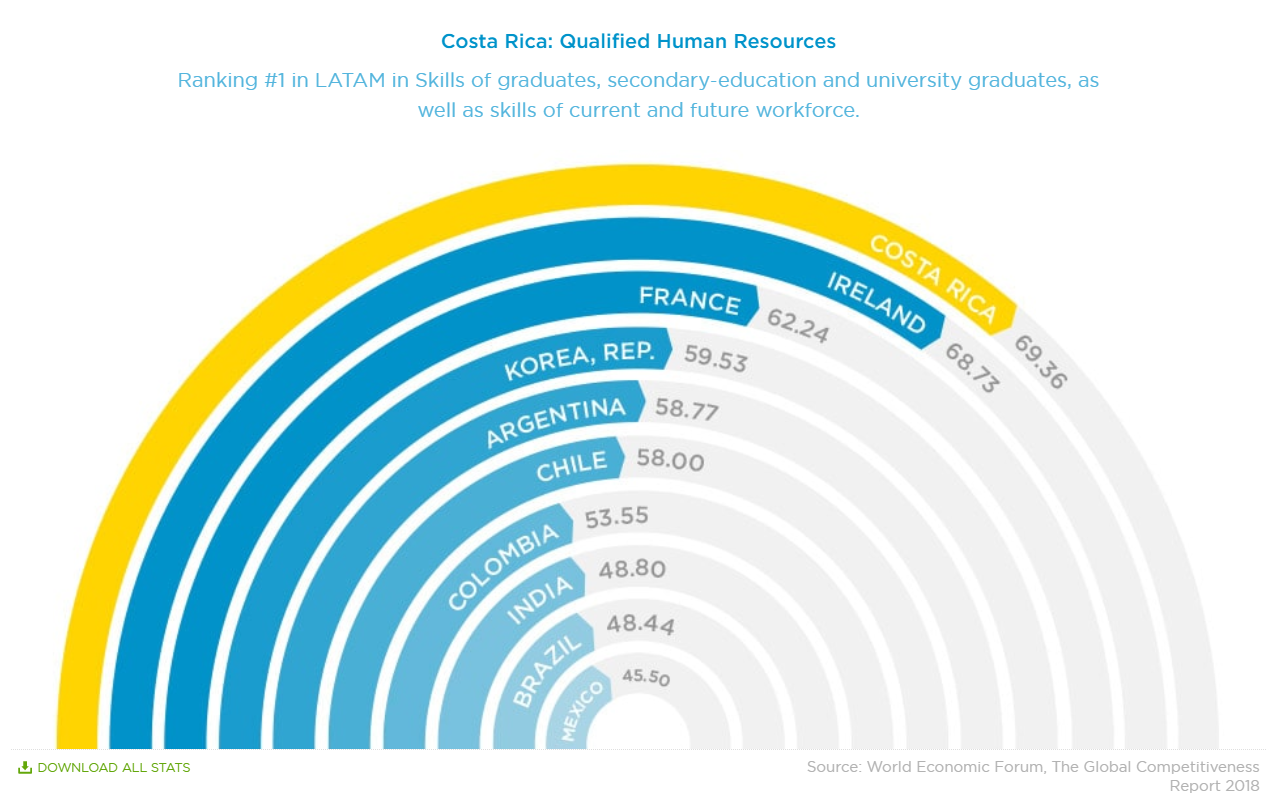 Besides these measurements, Costa Rica also has a stable democracy, a thriving economy and high global competitiveness overall.
Hub for Costa Rica Software Development Companies
Costa Rica has become a tech hub for both start-ups and foreign giants. For example, Costa Rica now houses 20+ Fortune 100 companies and 250+ multinationals. Some of these big players include:
In addition, Costa Rica has created its own innovative start-up culture. Some of the top companies include:
Yo Viajo

M.A.E.

GreenCloud

Zero Army

Salvaje Swimwear

Trip Fab

Leaf Grow

SaborStudio
Costa Rica also has a world-class software development ecosystem. Some of the big names here include:
Gorilla Logic

R/CS

ParallelDevs

4Geeks

FusionHit
Tech Initiatives
Costa Rica is also trying to maintain its leadership in IT services and start-ups with government-sponsored programs.
MenTe:

MenTe is a program to encourage women in STEM fields.
San José tech pole project:

The local government is renovating old abandoned buildings into a tech pole for offices and collaboration. Microsoft and TEC have already signed on.
Free Zones

: Tax exemption programs and industrial parks that attract multinationals and powerhouses worldwide.
Alliance for Bilingualism

: A program to increase English and get 15,000 students in low-opportunity areas to complete a B2+ level by 2022.
English Skill Rankings
Costa Rica has the top English skills in Latin America, according to multiple rankings. The reason maybe because of the Alliance for Bilingualism. Currently, Costa Rica ranks #1 in the TOEIC and TOEFL IBT rankings: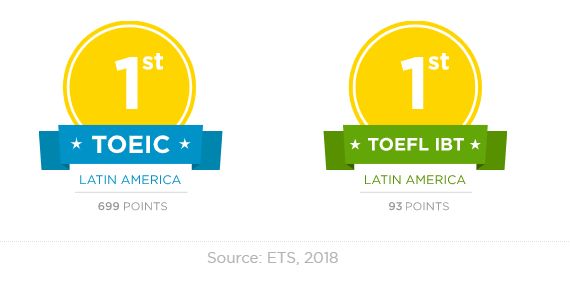 They also take the #2 spot in the EF EPI rankings, just after Argentina: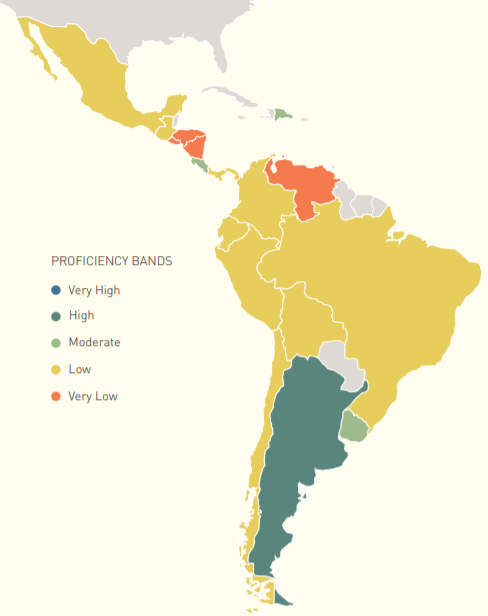 Cultural Compatibility
Costa Rica has excellent global workplace skills. Because of their proximity to the U.S. and their top English skills, they have great experience navigating U.S. workplace culture. They also show cultural compatibility when it comes to high expectations for deadlines and quality.
Cost Benefits
Costa Rica sure has people power. When it comes to paying for great service, Costa Rica is quite affordable. Compared to top software developers worldwide, the rates here are cost-effective. On average, the rate for a senior developer can range from $20/hr - $50/hr+ depending on the programming skills, languages and seniority.
Timezone Coverage
Costa Rica is located within a direct flight of most major U.S. cities. This is a huge bonus when it comes to company visits. For this reason, Costa Rica is great for working parallel with U.S. companies during their office hours. In fact, 60% of their tech outsourcing involves the U.S. Developers here can see up to 8 hours of overlap with the U.S., which is significantly different than Eastern Europe (with 3-5 hours of overlap) and Asia (with 0 hours of overlap).
Final Takeaway
Costa Rica has incredible potential when it comes to software development outsourcing. It's ranked #1 in Latin America for several different categories: their quality of human capital, educational system, innovation and English skills. Together, these factors create an ideal tech ecosystem for creating and collaborating with global tech companies.
Costa Rica also has excellent programming skills, a thriving tech start-up scene, top cultural compatibility and time zone coverage that you just can't beat!
TECLA was extremely helpful in ensuring that the right developers joined our team.
We've had great results with TECLA's recruiting. The developers we hired allowed us to drastically increase the pace of our development process and try new things more efficiently. This is crucial for us as we continue to grow!
Start
Hiring
---
Fill out the following form if you'd like us to reach out with more information.