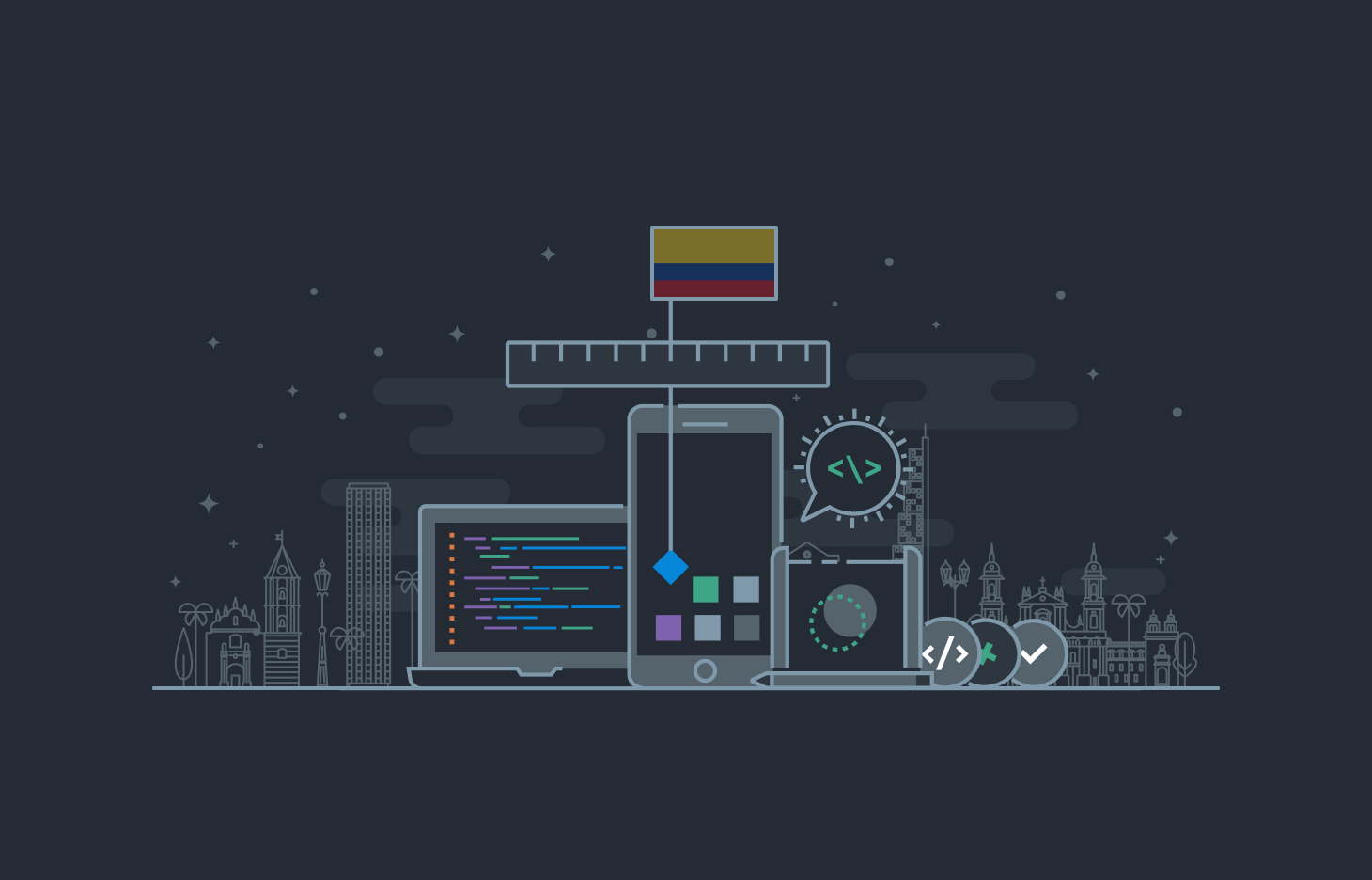 Colombia is a hotspot for software developers and IT outsourcing.
In fact, their software development industry is booming. Besides huge growth, Colombia also has some great features as a software outsourcing destination. First, they have excellent universities and the highest number of engineering graduates in Latin America. They also boast of innovative government IT programs.
If you're looking for software development, or outsourced IT services, with the best talent, an innovative ecosystem, and affordable rates, Colombia is a great place to look.
Colombia's Software Developers by the Numbers
According to 2018 data by Stack Overflow, Colombia has 64,638 software developers. This puts Colombia at #4 in Latin America in terms of talent numbers.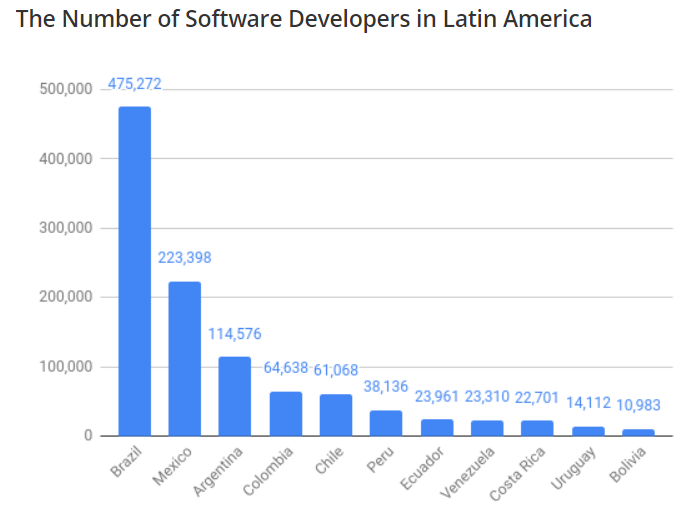 However, Colombia has created high-impact developer communities. In particular, they've created the largest JavaScript community in Latin America, with JS-specific meet-ups under the ColJS family, including BogotaJS, MedellínJS and six other cities with a total of 3,000 members. It's clear that software development in Colombia has a strong community behind it.
Programmer Skill Rankings
Colombia places well in software developer skill rankings. In the HackerRank Challenges, Colombia placed respectively at 45th.
While there aren't other rankings available to compare, Colombia is considered a hotspot for software programming talent.
Tech Educational Background
Colombia has excellent universities for forming top software developers. Numbers suggest that 13,000 students graduate every year from tech programs in Colombia. A boom between 2001-2013 also gave Colombia around 340,000 graduates. This shows Colombian tech universities have been gaining traction - and success.
Moreover, Colombia has award-winning tech universities. According to Dinero, the top 10 Colombia universities for engineering include: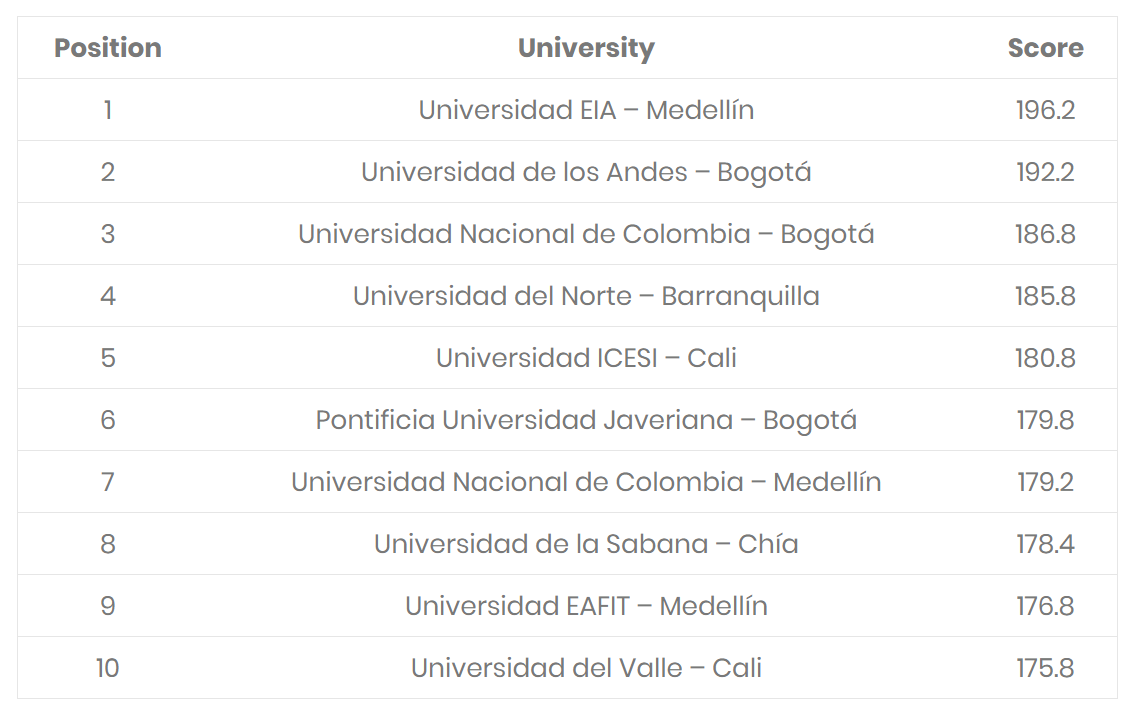 Besides quality, Colombia is also generating the highest number of engineering graduates in Latin America at around 25%.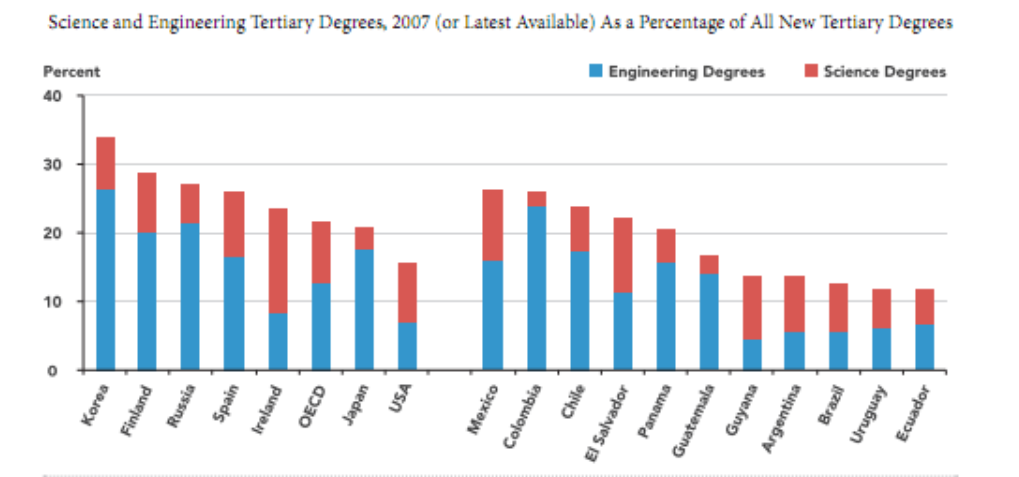 This is great news for companies with outsourcing needs, as Colombia has both quantity and quality.
Specific Programming Skills
They aren't a lot of measures on what programs Colombians are focusing on. However, according to this HackerRank chart, Java, C++, Python, SQL, and Ruby were the top five in 2018:
In addition, many U.S. clients now want full-stack developers, which means that more Colombian developers have mastered MERN stack, among others. A survey from Stack Overflow suggests that Colombian developers love TypeScript, dread C and most want JavaScript. It's safe to say that they know a variety of languages!
Tech Scene Overview
Colombia's tech scene is hopping. This country has grown immensely in the tech industry. Just look at this chart of the best software development outsourcing destinations. Colombia is listed in the top 20, but that's not all. They had the highest growth by a factor of +23. (To give you a reference, the next highest growth on this list was +5.)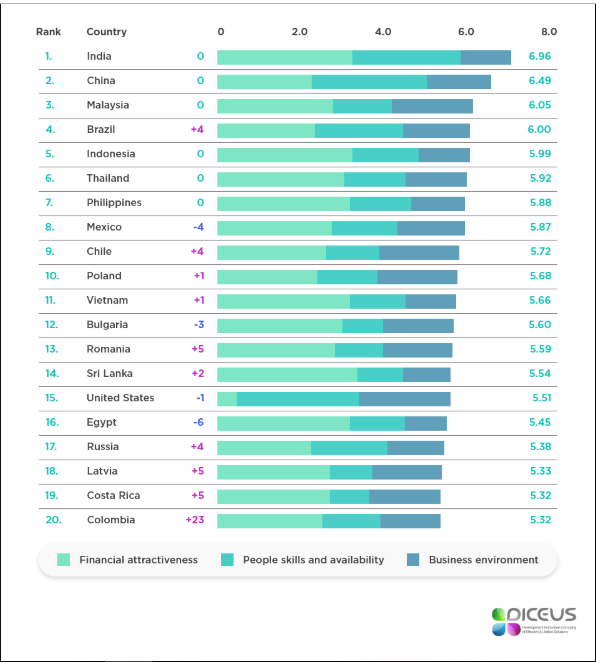 According to Gartner, they have the top IT service sales after Brazil and Mexico, with $2.4 billion of software development outsourcing. Overall, Colombia app outsourcing and Colombia software outsourcing are doing extremely well. Talk about a hotspot!
Hub for Colombian Software Development Companies
Colombia recently saw its first unicorn company Rappi, which was valued at over $1 billion.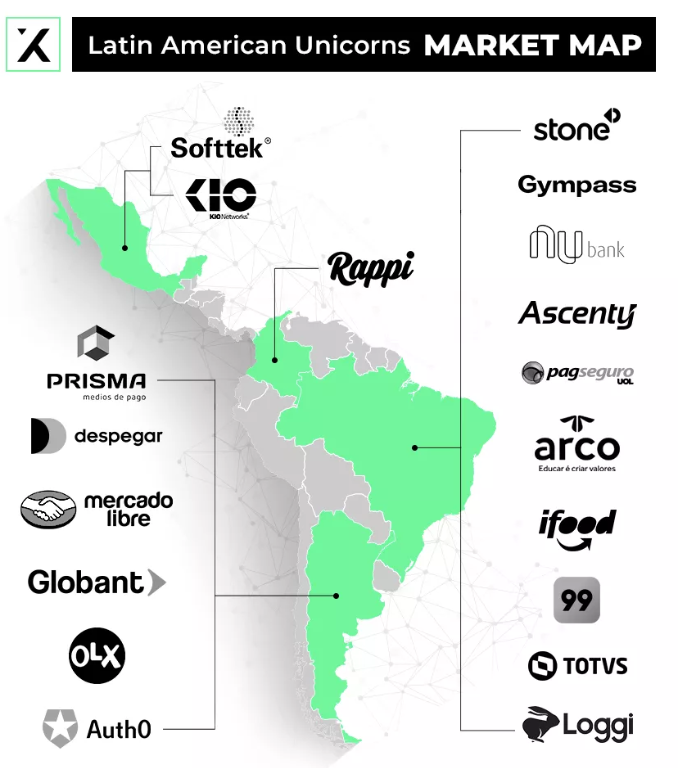 This has put Colombia on the map of top software development companies in Latin America. Rappi is also indicative of the kind of innovation and growth seen there today.
Some of the top Colombian start-ups that you should know include:
Platzi

Alegra

Mi.tv

Mi.com.co

CIVICO

Voice Bunny

Mas Oportunidades

Viajala
Colombian software development companies are also some of the best in the world, including:
UruIT

PSL Corp

TEAM International

FOONKIE MONKEY

Belatrix Software

Koombea

Gorilla Logic
There's also a good number of foreign companies with software development Colombia job openings such as:
Blackboard

Oracle

Red Hat
Tech Initiatives
Colombia is exploding with tech initiatives. Some of Colombia's notable programs include:
Vive Digital:

A governmental-sponsored program to boost the national digital ecosystem. Through it, 2,000 mobile apps have been developed in Colombia, significantly increasing Colombia app development. This program won them an award from the Mobile World Congress in Barcelona.
Bring IT On:

A campaign to help the IT sector in Colombia thrive, especially new start-ups in their starting phases.
Ruta N Building:

Medellín has been named one of the five cities to get a Center for the Fourth Industrial Revolution. Their Ruta N is a hub for business and tech in the region.
Government-Supported IT Training:

The Colombian government has invested $6.8 billion in IT training programs last year alone. There's a lot of government support for their fast-growing IT industry.
English Skill Rankings
Colombia has one of the lower English skill rankings in Latin America at 11th place, according to EF EPI: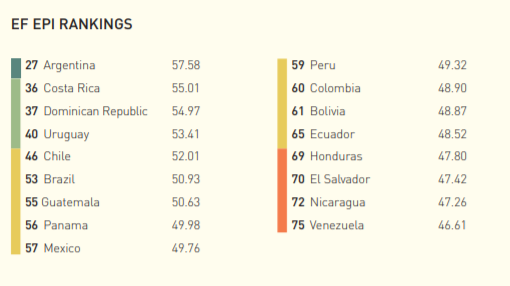 The good news is that the Colombian government has started a program called the Foreign Languages Competencies Development Programme, which aims for the country to become bilingual by 2025.
Cultural Compatibility
Colombia's booming tech scene shows its successful integration with U.S.-based companies. They've even taken the #1 spot in Latin America by the World Bank Group for the "ease of doing business." At the same time, they also rank consistently in the top 30 of Gartner's key outsourcing locations worldwide, which measures categories including cultural compatibility. This means that Colombian developers know how to work well with U.S. workplace culture.
Cost Benefits
One of the reasons that Colombia has grown so considerably is because labor is relatively affordable compared to other locations, even within Latin America. On average, the rate for a senior developer can range from $20/hr - $50/hr+ depending on the programming skills, languages and seniority.
Timezone Coverage
Like all Latin American countries, Colombia has overlapping time zones with the U.S. This is excellent for staying in contact with U.S. clients all 8 hours of the workday. Compare this to Eastern Europe, which has 3-5 hours of overlap and Asia, which typically has 0 hours of overlap. You can't do better than all-day overlap!
Final Takeaway
Overall, Colombia has a booming tech scene with the largest IT sector growth in Latin America. Colombia also stands out for its top universities and their number of engineering graduates, as well as innovative government initiatives to support tech. Colombia even saw a tech unicorn through the wildly successful Colombian app, Rappi!
If you're looking for nearshore software development with top talent and an innovative mindset, you can't beat Colombia. Their outsourcing software development growth continues to top the charts, with overlapping hours and affordable salaries to make the deal even sweeter!
TECLA was extremely helpful in ensuring that the right developers joined our team.
We've had great results with TECLA's recruiting. The developers we hired allowed us to drastically increase the pace of our development process and try new things more efficiently. This is crucial for us as we continue to grow!
Start
Hiring
---
Fill out the following form if you'd like us to reach out with more information.