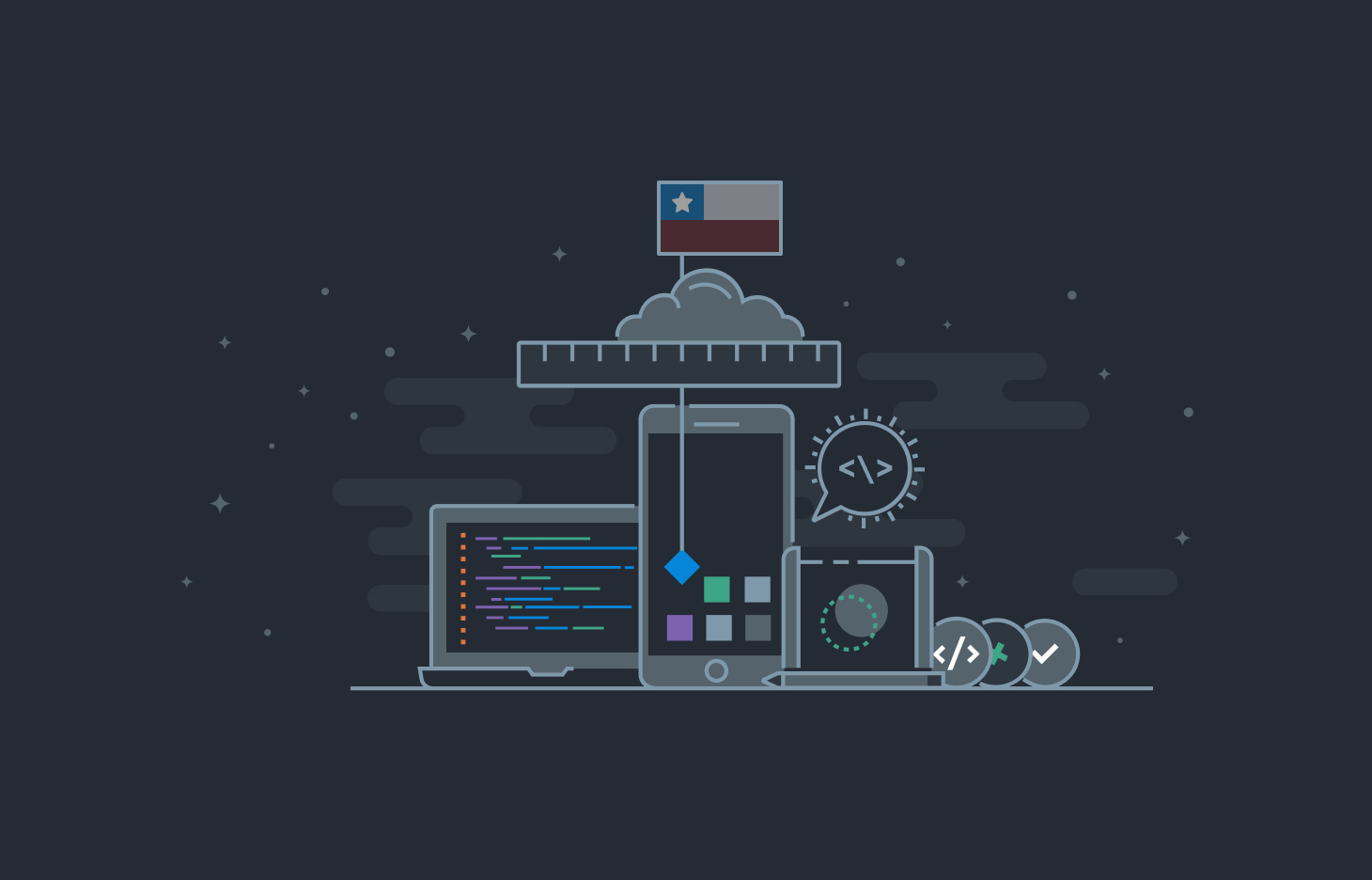 Chilecon Valley should be your go-to spot for getting great developer talent. Not only do programmers in Chile have top skills and a high educational level, but their tech scene is thriving with excellent initiatives and a start-up culture including incubator Start-Up Chile. Need more reasons? Chile also has a solid ecosystem for doing business, boasts of cost-effective rates and, of course, has matching time zones with the U.S.
Today we'll look at Chile as your next stop for recruiting top talent for software outsourcing.
Developers by the Numbers
According to 2018 data by Stack Overflow, there are 61,068 software developers in Chile. While that's fewer programmers than giants like Brazil and Mexico, it's a competitive pool to draw on.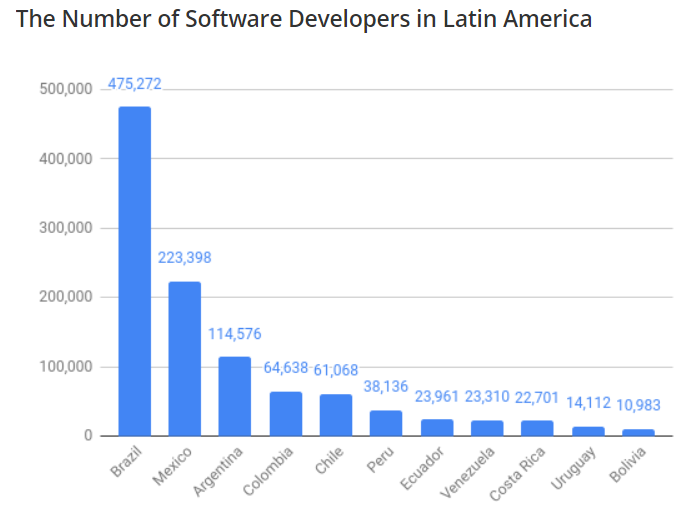 In addition, most Chilean software developers have strong educational backgrounds. The university system in Chile is high-quality, making for top graduates. In fact, 95% of computer science graduates in Chile get a job within a year of graduation - whether in app development, software development or another related area.
Programmer Skill Rankings
In a ranking called the HackerRank Challenges, Chile placed 27th, above the U.S. and Latin America as a whole.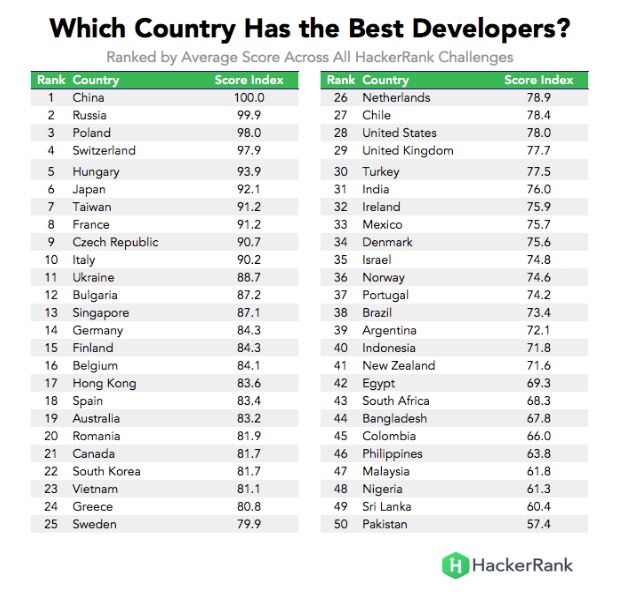 While there's no specific data on Chile's programming skills other than this ranking, Chile has one of the largest software outsourcing markets in Latin America, which speaks to the quality of their work.
Tech Educational Background
Chile has an extremely competitive university system that's focused on high-quality tech education. They fall just behind Brazil in having the world's top universities in LATAM: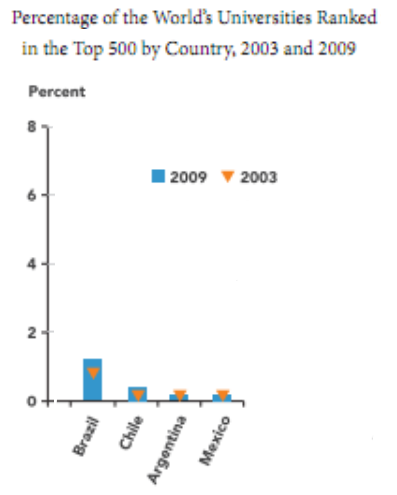 Moreover, four of their universities rank in the top 500 universities in the world for engineering, according to the U.S. News & World Report: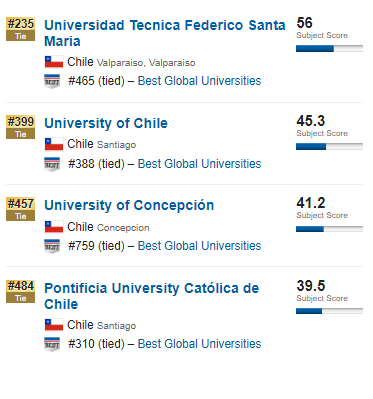 In addition to quality, Chile produces high numbers of science and engineering graduates. According to recent estimates, nearly 25% of Chilean students receive science and engineering degrees, which is one of the highest rates in Latan America and significantly higher than the U.S.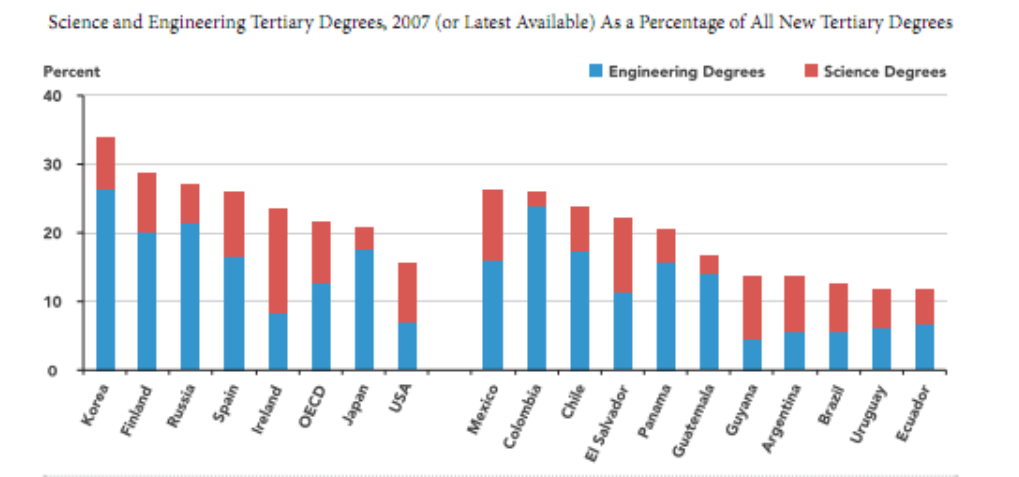 At the end of the day, this accounts for Chile having one graduate engineer per 4,500 inhabitants.
Specific Programming Skills
Software developers in Chile have a wide range of programming skills. According to the number of clients requesting projects, the top languages for Chilean developers include PHP and ASP.NET, as well as Java, Python, Node.js, and Perl: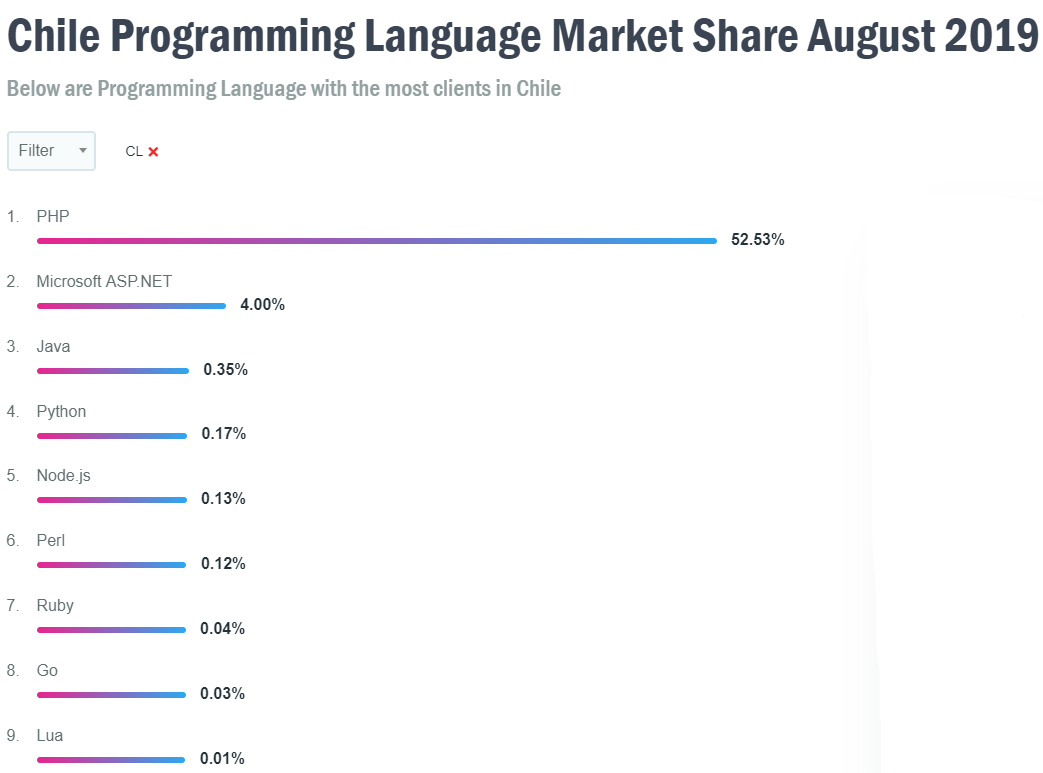 Of course, Chilean developers also know other language programs and full-stacks such as MERN stack. As this chart by HackerRank shows, C++, SQL, and Ruby are other languages that Chilean developers are focusing on.



Finally, a survey from Stack Overflow suggests that Chilean developers love Python, dread C and most want Javascript. It's clear: they know a variety of languages!
Tech Scene Overview
Silicon Valley? Here's it's Chilecon Valley. Chile has a fast-growing tech scene with several booming metrics. First, they have one of the top five fin-tech systems in Latin America, which has grown 34% in the last 18 months.
Chile also ranks high in terms of doing business. In fact, they placed 13th worldwide in The Economist's Business Environment Index: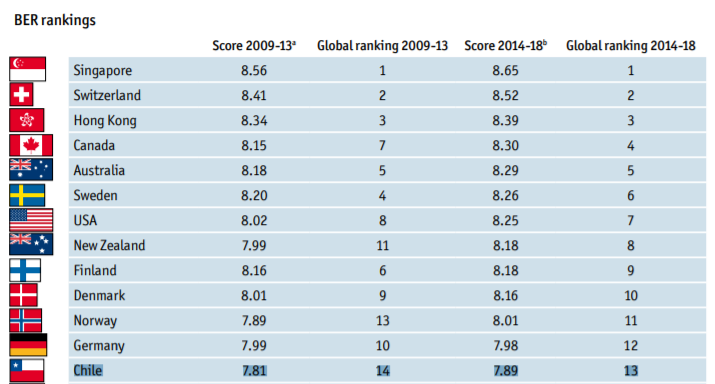 In addition, Chile ranks first in Latin America for innovation, according to the Global Innovation Index. These rankings show that Chile is a stable and innovative place to do business.
Hub for Chile Software Development Companies
Chile is truly becoming a hub for start-ups, many of them in the software development field. Since Start-Up Chile began, global sales for start-ups in Chile have had widespread success: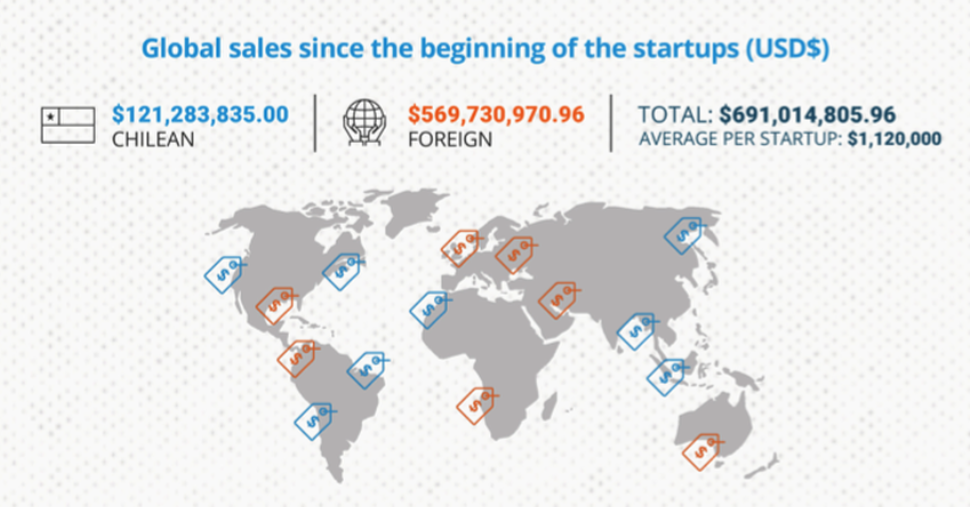 Some of the top Chile start-ups that you should know to include:
Brickhop

Biz Latin Hub

GoPlaceIt

SaferTaxi

ChileTrabajos

Recorrido

Portal Educativo
Chile software development companies are also some of the best in the world, including:
Abstracta Inc.

Practia

Wolox

Acid Labs

Moovx

Arkano Software
There's also a good number of foreign companies that have opened offices in Chile. This shows the appeal of the local talent and tech scene:
J.P. Morgan

Cisco Systems

Motorola Solutions

Equifax
Tech Initiatives
Chile has a variety of exciting programs designed to jumpstart its tech scene. These include:
Tech Visa:

Starting in 2017, Chile now offers a tech visa for entrepreneurs and investors in order to facilitate partnerships.
Start-Up Chile:

A start-up incubator that supports start-ups during their initial stages. 1,000 start-ups have joined and their portfolio is currently valued at

$1.4B.
S Factory:

An acceleration program for start-ups led by women. They receive training, mentoring and financial support of about $15,000.
Government-Supported Innovation Grants:

The Chilean government is boosting companies by granting financial aid to start-ups with big ideas.
English Skill Rankings
Chile has good English skills and ranks at #5 in Latin America, according to the EF EPI score.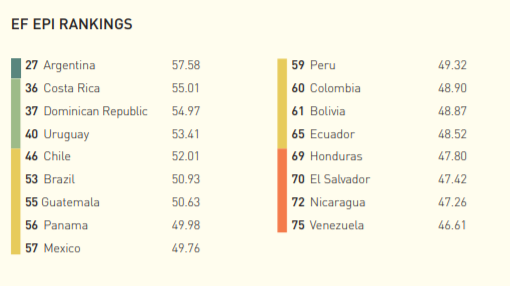 Chile falls in the middle of the pack on the whole. However, many science and engineering graduates have better English skills than this average.
Cultural Compatibility
As an innovative country with a booming tech scene, Chile has the cultural capital to work with countries worldwide. Many software development companies in Chile are boosting their cultural know-how as they expand to new areas of the world. Gartner listed Chile (along with Argentina, Brazil, Costa Rica, Mexico, and Uruguay) as key outsourcing locations in Latin America, especially because of their cultural compatibility with U.S. workplace culture.
Cost Benefits
Chile has a reputation for expensive labor, but this isn't the case when it comes to outsourcing. Compared to top software developers worldwide, the rates here are cost-effective. On average, the rate for a senior developer can range from $20/hr - $50/hr+ depending on the programming skills, languages and seniority.
Timezone Coverage
Like all Latin American countries, Chile has overlapping time zones with the U.S. Developers in Chile can have up to 8 hours of overlap with a U.S. company. Compare this to Eastern Europe, which has 3-5 hours of overlap and Asia, which typically has 0 hours of overlap.
Final Takeaway
Overall, Chile has a thriving tech scene that's producing excellent programmers. In addition to a high-quality educational system, Chile stands out for its ease of doing business, innovation and start-up culture. The government has even gotten on board with initiatives such as the Tech Visa.
If you're looking for nearshore outsourcing with top talent and matching hours, Chile is a great option. Their outsourcing software development industry is booming - and with affordable salaries to top it off!
TECLA was extremely helpful in ensuring that the right developers joined our team.
We've had great results with TECLA's recruiting. The developers we hired allowed us to drastically increase the pace of our development process and try new things more efficiently. This is crucial for us as we continue to grow!
Start
Hiring
---
Fill out the following form if you'd like us to reach out with more information.