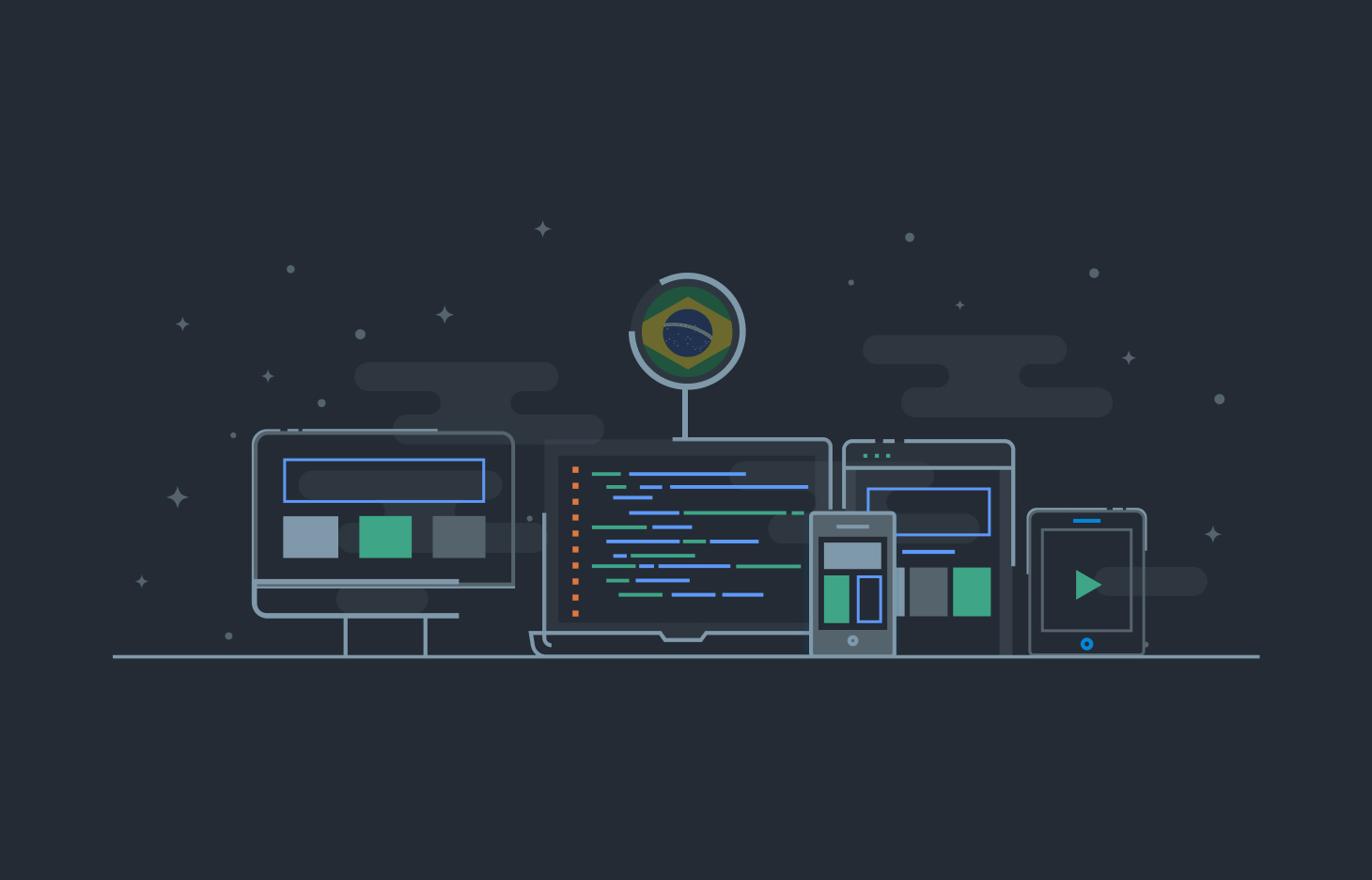 Brazil is a hotspot for software talent and boy, do we know it! At TECLA, we enjoy working with Brazilian developers. We adore Brazil for its excellent pool of candidates, top-rated IT-institutions, world-competitive programming skills and a thriving tech scene with the most unicorns in LATAM.
In other words, Brazil is a great option for hiring software developers. Today we'll give you all the statistics to show you what we already know: Brazil's an ideal choice for nearshore software outsourcing.
Developers by the Numbers
Long story short: Brazil has one of the largest developer talent pools in the world. Brazil takes 9th place in the world for software and services, with a market of $18.6 billion. This means that Brazil's software market is both big and successful on a global scale: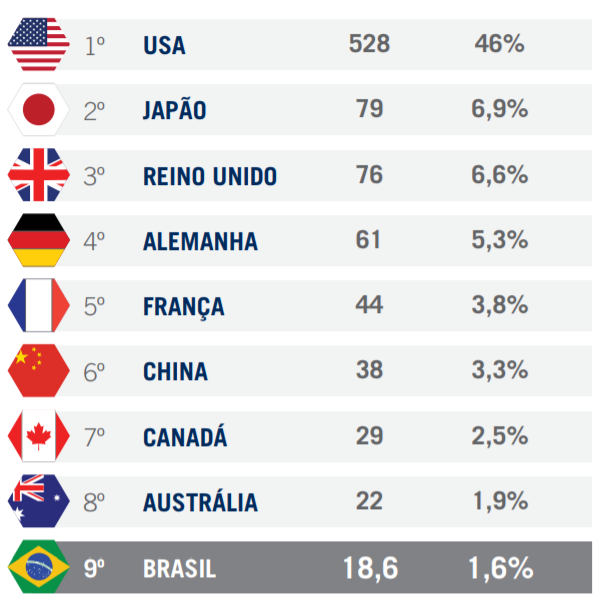 With almost half a million software developers, Brazil has a lot of talent to choose from, too. Compared to other Latin American countries, Brazil has much more manpower: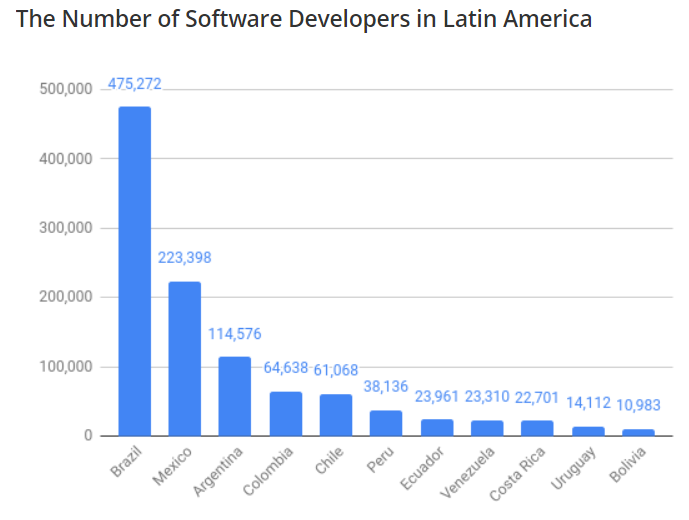 Besides the numbers, Brazil also ranks consistently high in engagement with tools. According to Stack Overflow users, Brazil leads LATAM respondents by half: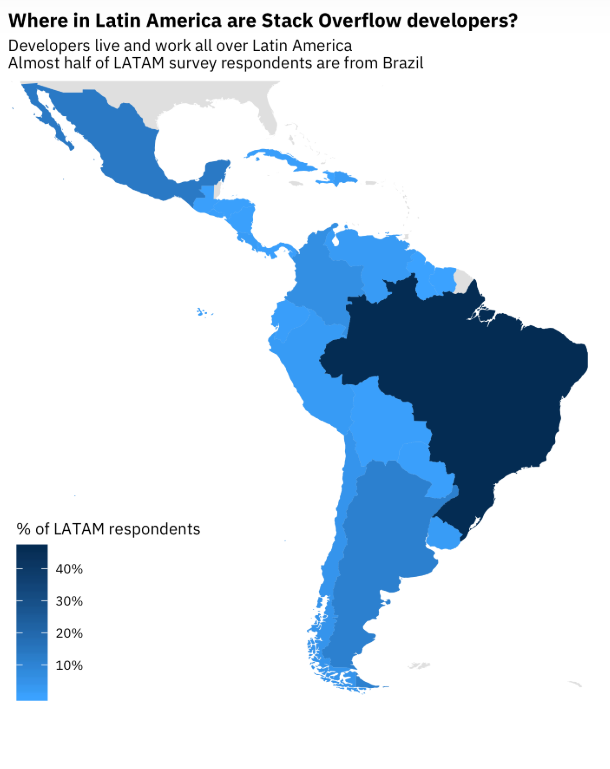 Together, these statistics suggest that Brazil has a big pool for your company to choose from, with the right tools and training to succeed in a global marketplace. Just by selecting Brazil for software outsourcing, you'll get top candidates.
Programmer Skill Rankings
In terms of programmer skills, Brazil scores high across the board. According to Coursera's Global Rankings, Brazil takes 30th place and falls in the competitive technology category:
Besides the formal scoring, Brazil also ranks well in unofficial rankings. For example, Brazil took 13th place in the TopCoder ranking, right above Argentina:

In another similar ranking called HackerRank Challenges, Brazil got 38th place, again right above Argentina.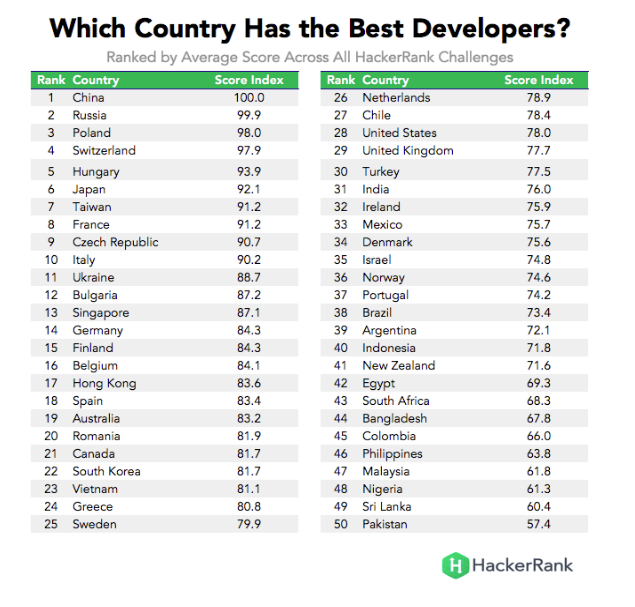 Overall, Brazil shows excellent skills that are competitive with other countries worldwide.
Tech Educational Background
Brazil has some of the top IT higher education programs in the world. Overall, Brazil has 1,714 IT-related technical and graduate courses, which produce 100,000 graduates per year. This a huge part of Brazil's successful IT sector.
In addition, many credit Brazil's 123 national institutes of science and 400 incubators as the foundation of Brazil's tech education. When you look at the world's top universities, Brazil takes the lead within Latin America: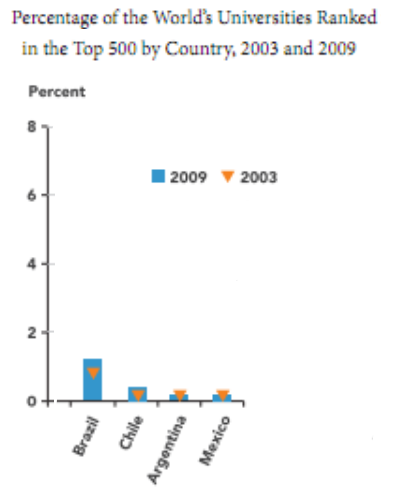 Specifically, Brazil has 6 universities in the top 500 universities in the world, according to the prestigious U.S. News & World Report.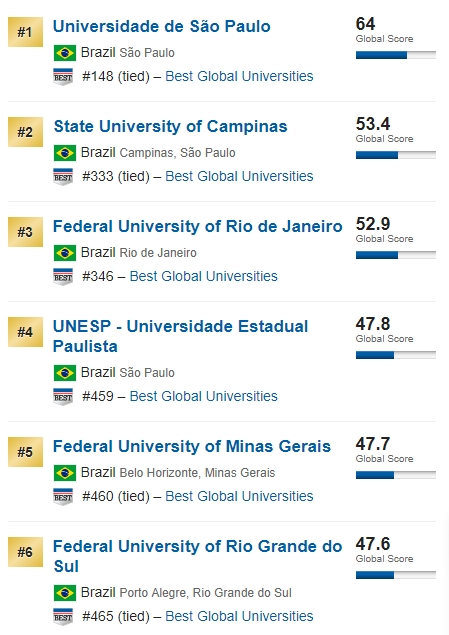 Specific Programming Skills
Because of Brazil's large talent pool, there's also great diversity when it comes to programming skills. First of all, Brazil has more Java programmers than any other country. They also rank in the top 5 of front-end developers with 3,210 developers, above Ukraine: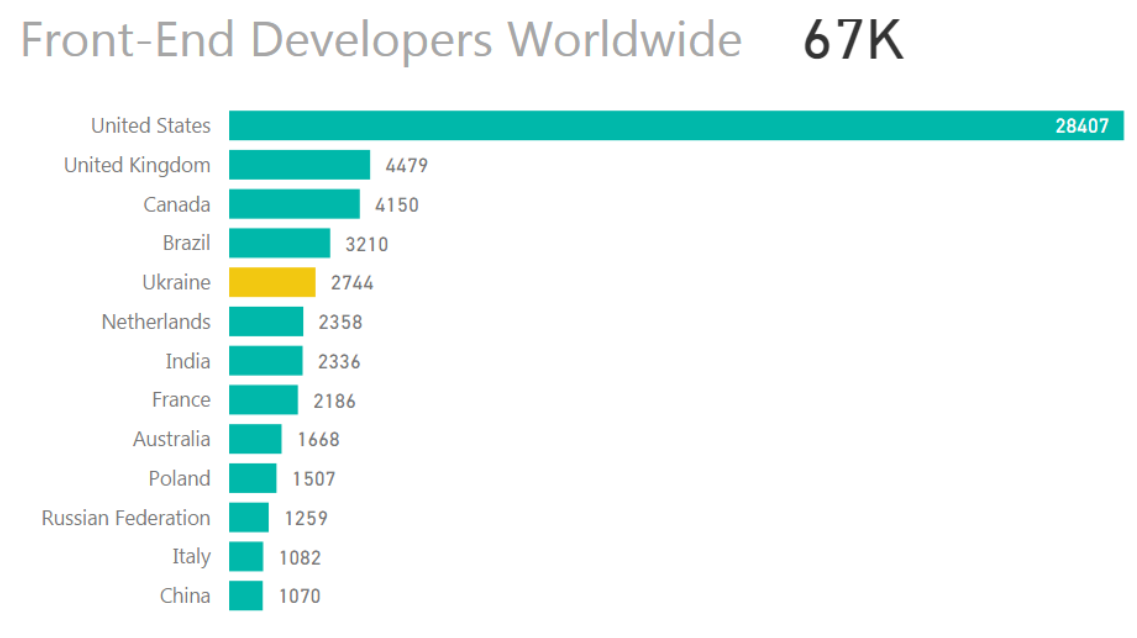 Common programming languages for Brazilian developers include JavaScript, SQL, Java, HTML, CSS, C#, and Python, as you can see here: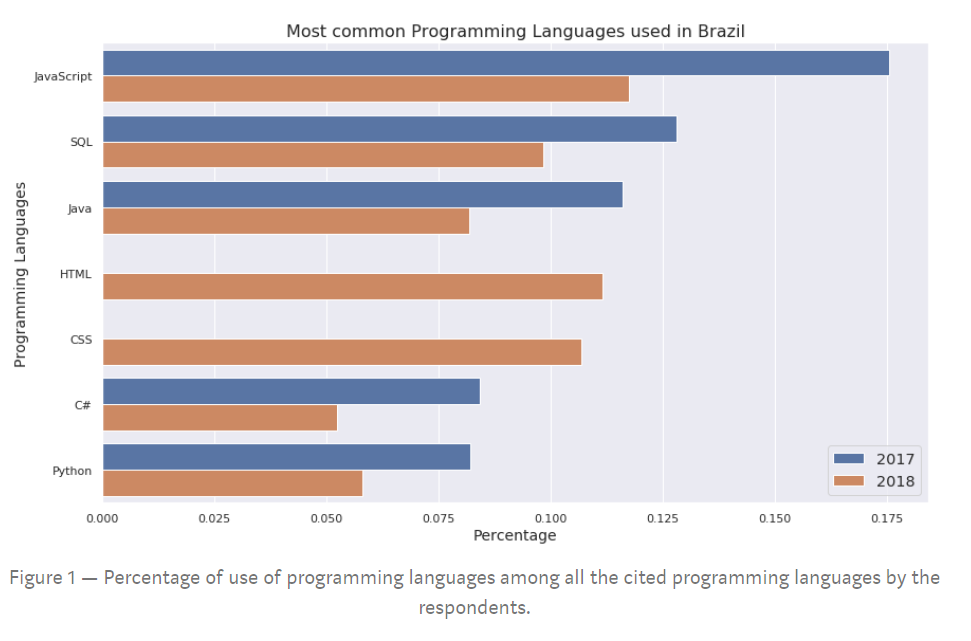 The popularity of JavaScript with Brazilian programmers also shows that they know all about MERN stack, one of the top JS full stacks out there. In terms of what languages Brazilian programmers enjoy: they love Kotlin, dread Visual Basic 6 and most want Python, according to Stack Overflow. These numbers give a sense of Brazil's wide range of programming knowledge.
Tech Scene Overview
The tech scene in Brazil is thriving with 39.1% of the Latin American IT market belonging to Brazil. In addition, Brazil has about half of the IT market dedicated to hardware, a quarter to software and another quarter to services: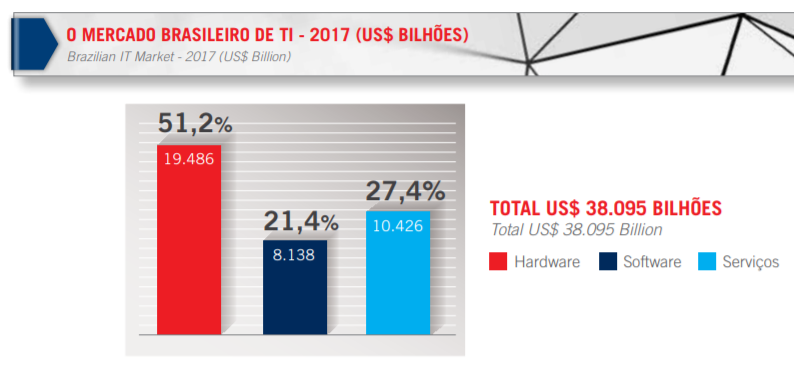 In particular, the global app scene in Brazil is quite diverse. In general, 35% of their apps are developed for the U.S., while over 10% of apps are created for the domestic market. There's also a large chunk of apps developed for China, France, and the U.K.

Hub for Software Development Companies
Brazil is packed with successful software development companies. In fact, 65% of Fortune 500 companies, including Spotify, Airbnb, Google, Netflix, and Amazon have offices in Brazil. However, local Brazilian startups are starting to have a huge success, with hit companies and unicorns including:
99

Nubank

iFood

Loggi

Stone

TOTVS

Arco

PagSeguro

Ascenty

Gympass
Brazil also has top-rated software outsourcing companies, including:
BairesDev

Zoocha Ltd

Cheesecake Labs

Arke

Vinta Software

Vizir
Another good sign is the number of foreign giants currently hiring in Brazil as well:
IBM

Dell

HP

McKinsey

Amazon

GoDaddy
Overall, the IT sector in Brazil is doing extremely well, with startups, software outsourcers and foreign companies thriving.
Tech Initiatives
Brazil also has some exciting tech initiatives, both through private investors and the government:
Estação Hack

(Hack Station): Run by Facebook, this Hack Station in São Paulo provides free programming and business training to young students and professionals.
Chinese investment:

China has taken notice of Brazil's potential and invested a lot in new Brazilian startups. In 2016 alone, China invested $90 billion in Latin America, most of it in Brazil.
Start-Up Brasil

: A government-led initiative to partner tech accelerators with startups to encourage Brazil tech development.
English Skill Rankings
Brazil doesn't have the best English skill rankings, according to the EF EPI score. They rate consistently in the middle of the pack for Latin America: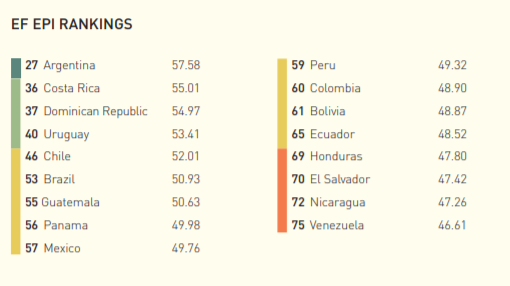 On the plus side, Brazil's Ministry of Education created the Languages Without Borders program in 2014 to boost foreign languages in university programs, including English, French, German, Italian, Japanese, Mandarin, and Spanish. Hopefully, these types of programs will help increase Brazil's English level over time.
Cultural Compatibility
Brazil has good cultural compatibility with U.S. companies, scoring "very good" on Gartner's index. It's also listed as one of the top 30 outsourcing locations. Because of its proximity to the U.S. and its global outlook in general, Brazil has a similar work culture and an innovative mindset. To help matters, Brazilians also share certain cultural icons with the U.S., as the music and movie industry are quite connected.
Cost Benefits
Compared to the U.S., hiring Brazilian developers is also affordable. Generally speaking, the average rate for a senior developer can range from $20/hr - $50/hr+ depending on the programming skills, languages and seniority. These salaries are relatively cost-effective and ensure high quality as well. This can be a huge bonus when it comes to software outsourcing in Brazil.
Timezone Coverage
Time zone coverage is another big thumbs-up when it comes to outsourcing to Brazil. That's because Brazil shares eight working hours with the U.S. Compare that to other software hotspots: Asian countries have zero overlapping hours and Eastern Europe has 4-5 hours overlapping hours. This 8-hour overlap is extremely helpful for responsive and collaborative development: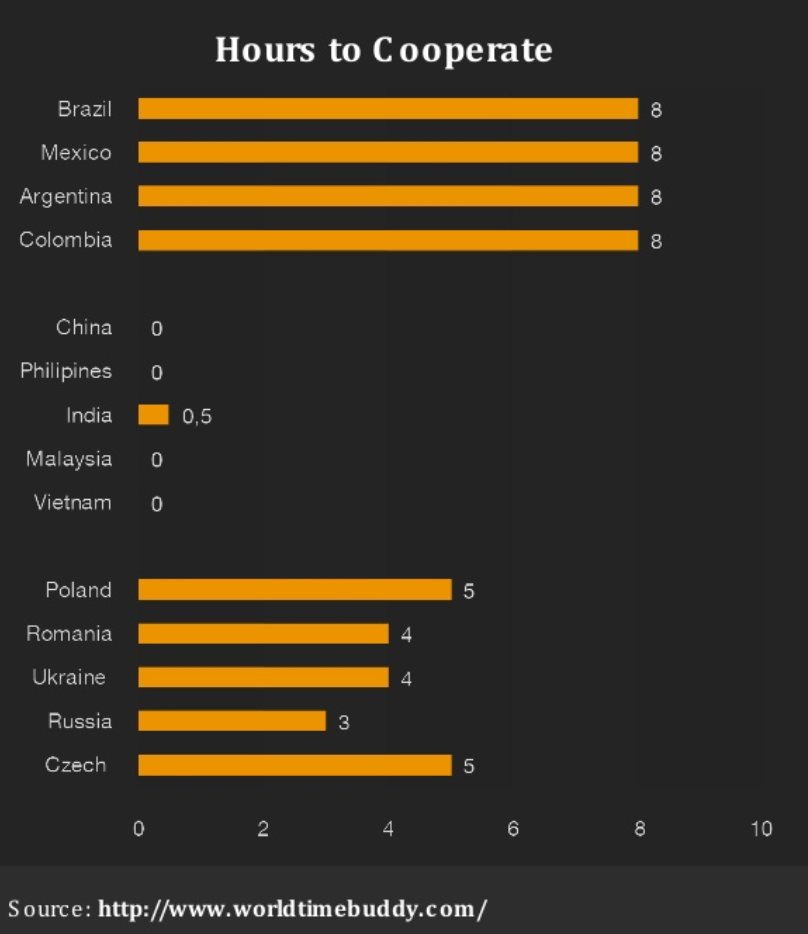 Final Takeaway
In the end, Brazil is a top destination for software outsourcing. From its thriving tech scene to its top development talent, Brazil excels in all the major categories, including world-class IT programs, diverse programming skills, and innovative startup culture.
Besides this, Brazil is a great nearshore development option because it's cost-effective and has solid 8-hour time zone coverage with U.S. companies. These logistical issues make it ideal for handling project management and encouraging responsiveness.
You know what's best for your software outsourcing needs, but Brazil is definitely a top choice that checks all the most important boxes!
TECLA was extremely helpful in ensuring that the right developers joined our team.
We've had great results with TECLA's recruiting. The developers we hired allowed us to drastically increase the pace of our development process and try new things more efficiently. This is crucial for us as we continue to grow!
Start
Hiring
---
Fill out the following form if you'd like us to reach out with more information.